**KNOWN ISSUE**
Some items are displaying erroneous star ratings. This seems to be happening most on items where typically there are no star ratings. We have found the cause for the issue and it will be resolved, targeting mid-late next week.
Incoming Bug Fix: Captain Marvel (Abyss of Legends) gaining Binary Charges when in Binary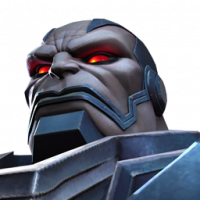 Kabam Miike
Posts: 7,598
Administrator∙Moderator ›
Summoners,

We are about to push a fix for the following bug with the Captain Marvel encounter in Abyss of Legends:

- Fixed an issue where Captain Marvel was gaining Binary Charges even when in Binary form.

We will also be working to compensate Summoners that fought Captain Marvel in her original implementation, when she was taking less damage from Mystic Champions when gaining Binary Charges from their Attacks. This will be in the form of consumables.
Post edited by Kabam Miike on
This discussion has been closed.