Summoners, due to a technical issue, this week's series of Alliance Quests will be cancelled at 4pm PT. There will not be any Rewards for this series. The next series of Alliance Quests will start on April 18 at 12pm PT. We will be assessing the impact on Alliances and compensating accordingly, as well as returning Alliance Tickets.
Spiderman evading Venom ?

dot_ditto
Posts: 1,164
★★★
Hi, so I'm wondering if I'm missing something ... here's what I got ..
Using Venom vs Stealth Suit Spidey.
In MODOK's quest ... active nodes are:
Here's a video .. and it occurs first at about 24s-25s.
For some reason, the Klyntar buff is dropping when the Trial by Fire activates the incinerate.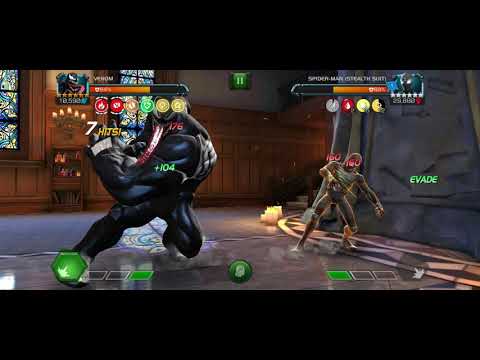 I don't see any reason why the Klyntar buff would drop off prematurely when Trial by Fire activates ??
Wondering if I'm missing something .. or if this is a bug ?