Alliance War Season 19: Node Combination Feedback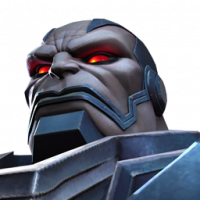 Kabam Miike
Posts: 6,552
Administrator ›
Hey Summoners,

A lot of you have shared your opinions on Alliance War Nodes that you feel are more punishing than they should be. We've been reading through all of your feedback, and have learned a lot, but there are a lot of you, and feedback can get lost. This thread is for feedback only and has some different rules. Any posts that break these rules will be deleted immediately.

We want to hear from you, which Node Combinations do you think are more punishing than they should be? We are interested solely in Combinations of buffs, and not necessarily the Champions on a single buff. For example, Ebb and Flow - Intercept is a version of Aegis Intercept that lets you do some damage, even if you can't hit the opponent with an intercept, but the addition of Tenacity makes it too difficult because you can no longer Slow Rhino. This is what we want to hear about.

One action we are already taking is retooling the Aggression Fury+Oscillate combo. If you have more feedback on that, feel free to share it, but know that we are already working on it.

Important things to note:
- This is not a thread for conversation because we want to get direct feedback here. There will be no discussions in this thread. If you want to agree with somebody without adding more to their comment, give it an "Agree". If you disagree with them, give it a disagree. Give your own feedback, and avoid debates with others.
- Generalizations will be deleted. Comments like "Scrap it all" are not helpful, and will be removed.
- The goal here is to eliminate overly punishing nodes. Not everything listed here will be actioned on, as these Maps still need to challenge Alliance.
- If you have not experienced the new Map, or do not have insights from those that have, please refrain from commenting in this thread.

Thank you all for your feedback in advance, and we hope that we can use your feedback to make AW Season 19 and beyond the best it can be!
This discussion has been closed.