We are currently experiencing an issue causing a delay in delivery of Summoner Advancement, the Alliance Quest event, and other 3-Day X-Men use event. We are working to resolve this, but it will likely take a few days. We will ensure that these rewards are delivered to affected Alliances. Please do not change Alliances until your rewards are delivered.
Trying for Elders Bain and Cavalier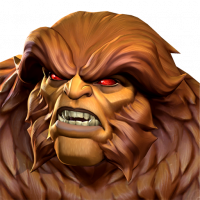 Ameloblaster
Posts: 2
I'm about halfway through 5.4 to fully explore Act 5 and have completed 6.1.1. Goal is to become Cavalier, but still waiting for a counter to Crossbones/Biohazard nodes.
For this reason I still haven't taken a champ to rank 5. I have the resources to take any of the top line to rank 5. Or I can take a couple of other champs to rank 4. Who would you focus on, or would you continue to just wait for the right champ to make a move? Thanks!