We are currently experiencing an issue causing a delay in delivery of Summoner Advancement, the Alliance Quest event, and other 3-Day X-Men use event. We are working to resolve this, but it will likely take a few days. We will ensure that these rewards are delivered to affected Alliances. Please do not change Alliances until your rewards are delivered.
Nick Fury going Unstoppable Once LMD Destroyed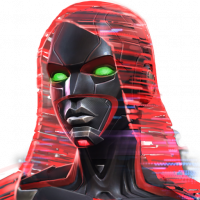 MrPhooky
Posts: 7
★
I am convinced that I saw the popup "UNSTOPPABLE" come up when I was fighting Nick Fury in War when I pushed him into his second phase. This was also coupled with an unusual "buff" symbol I haven't seen before - kind of like cruelty but darker and not exactly the same...

The fight was on node 51 on the Intermediate War Map (+100% Attack & Health - +150% Health - Hurt Locker - Power Focus 1).

I was using Quake against him an it was a flawless fight.

Has anyone else experienced this anomaly?