Celebrate some truly Spectacular Summoners of the Contest during the Legends Celebration!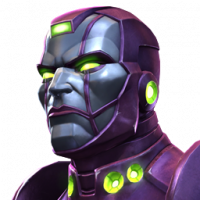 MCOC Team
Posts: 398
Administrator∙Moderator ›
Celebrate the first Summoners to Achieve Monumental Tasks!
When BrutalDLX beat the Realm of Legends, he achieved something that everybody thought was impossible and became our first-ever Legend of the Contest!

Later, HQ Sean proved that he had what it takes to become the first Summoner to explore all of the Labyrinth of Legends, earning his spot in the pantheon of legendary Summoners.

And now, 不酷企鹅 (Not Cool Penguin) has joined their esteemed ranks as the first to 100% Explore the Abyss of Legends! Now, we want to celebrate them all throughout the Contest during the Legends Celebration!
From August 24th at 10:00 AM PDT, until August 31st at 10:00 AM PDT,
Summoners across the Battlerealm (regardless of if you've gotten a Legends title or not) can enjoy a free gift, special events, a Gold and Battlechip boost, and more!
Legendary Triumph!
All Summoners who log into The Contest during this period will get a Crystal Selector gift based on their Story Progression level! You'll be able to select between BrutalDLX's choice of a Sorcerer Supreme Crystal, HQ Sean's choice of a Mojo Crystal or 不酷企鹅 (Not Cool Penguin)'s choice of a Black Widow (Claire Voyant) Crystal!
7-Hour Legends Celebration Crystals
Log in ever 7 hours to claim a Legends Celebration Crystal! These crystals offer a chance at 4-Star and 5-Star Crystal Shards, Tier 4 Basic & Class Catalyst and Fragments, Boosts, Units, Loyalty, Potions & Revives.

You'll claim these the same way you claim 4-Hour and Daily Crystals, so you'll want to be prompt to make sure you don't miss out!
Legends Celebration Boost
During the Celebration, all Summoners will receive a 20% increase to all Gold and Battlechips earned! Fill those coffers!
Legends Celebration Arenas
Use your 1 and 2 Star Champions in special week-long arenas that award 4 and 5-Star Hero Crystal Shards!
Incursions Solo Objectives
Join with a friend or a stranger and challenge Ultron's Incursions to complete special Solo Objectives and get rewards!
Item Trade-In Event
Inventory overflowing? Trade-in low tier items to get useful resources and items! Make the most out of this rare trade-in!
The Halls of Healing, Glory, and Fortune!
The Halls of Healing contains resources to keep your Champions fighting, the Halls of Fortune contain Gold, and the Halls of Glory contain ISO-8 to help Level Up your Champions! Each day one of the three Halls will be opened, challenge it, and triumph to earn a plethora of prizes that will help keep you powered up in The Battlerealm!
Legends Celebration Crystals in the Daily Specials!
Daily Specials will contain Legend Celebration Crystals! Regular Daily Specials will include 1 Crystal, Grandmaster Daily Specials will include 2 Crystals, and Cavalier Daily Specials will include 3 Crystals. These Crystals will give valuable resources as listed in their description above.

Be sure to make the most out of the celebrations of our incredible Legends, perhaps you'll be the next to join their exalted ranks!