Laid Back alliance is looking for some new members (little effort/no line/great for semi retired)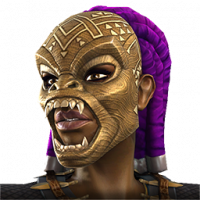 Giuliameij
Posts: 847
★★★
Hi Guys and girls.
I`m a proud officer of the alliance Del Boca Vista. We are a very laid back alliance with members at all progression levels. We have a solid core of 8 players who are 1m total rating and 8,8k+ prestige. The rest of our alliance consists of alt account or people who are around the uncollected progression.
We have a handful of members that haven`t logged in for more than a week now that we are looking to replace.
We play 5 days of map 2 aq so your champs are always free to do questing. This gives us roughly 2000 glory per round. We also play 1bg of war and finish in the silver brackets. We have 7 members who always join war and the rest is filled with whoever feels like it.
We do not use line, since we view this game as just that, and do not want to be forced to play.
There is very little effort needed for aq.
We are looking for players that are preferably around the uncollected level or higher. That can bring at least r4 5* champs if you join war. (attack)
Do you feel like just doing your own thing in the game, and want to pick up some glory and loyalty on the side?
Del Boca Vista is the place for you.
Contact main-donny89 if you want to join, or react on this forum post.
See you soon!