Summoners, due to a technical issue, this week's series of Alliance Quests will be cancelled at 4pm PT. There will not be any Rewards for this series. The next series of Alliance Quests will start on April 18 at 12pm PT. We will be assessing the impact on Alliances and compensating accordingly, as well as returning Alliance Tickets.
Last spot for my Colossus Labyrinth team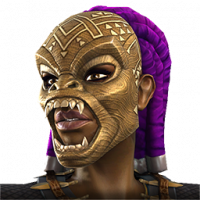 Giuliameij
Posts: 844
★★★
Hi Guys, I am planning to use my newly aquired 5* 5/65 sig 50 colossus to do my initial clear of labyrinth. Alongside Colossus I will bring Proff x 3*, Omega Red 5/65 s200, Emma Frost 3/45. I am still debating my last spot.
I have a 5/65 magneto for the metal champs, or would Juggernaut be a better fit to increase colossus's crit and damage even further? Or would another option be best?
I do not have Apocalypse yet, otherwise I would bring him.
Last spot for my Colossus Labyrinth team
4 votes