Finally took the time to do the labyrinth initial clear.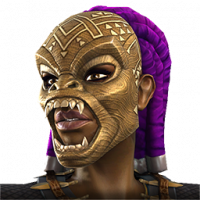 Giuliameij
Posts: 847
★★★
So finally I sad down and did my initial clear of the labyrinth of legends. I had been hunting Aegon for a very very long time with no succes. A month or so ago I pulled colossus from a dual crystal. I was really happy with the pull and saw another way to do my run. Thanks to some great videos I saw by KT1.
@Kiryu
Thank you very much (if this is your actual account)
I grinded for a 3* prof-x some time ago, thinking I would do my run with Sabretooth. I`m glad I didn`t. Colossus is a great champ to do this if you are not very skilled.
My team was:
5/65 sig 80 Colossus
5/65 sig 200 Omega
3/45 sig ?? Emma Frost
5/50 sig ?? Juggernaut
4/40 3* Proff-x
In the end I used 5 revives and roughly 130 lv 3 potions (single and team combined), which I had farmed days prior.
Initially I wanted to do my run on friday so I would have 200+ potions, but I ended up not needing them, and I didn`t waste too much time.
I was planning to use my other champs to bring 3 enemies to 1% and finish them with Proff x. But for the first time ever I soloed Rulk. And I ended up soloing Old man Logan aswell. I had a mess up at both Elektra and Miss Marvel of all champs. So 2 revives and roughly 40 potions spend. But I did get my initial charge from one of them on Proff-x.
I mistimed an unstoppable by unst. Colossus and had to use another revive. At this point I didn`t feel to confident. But pushed on.
Colossus was nearly a one shot, but used Omega to bring him down to 1% because and sacrificed him to get my second charge on proff-x.
At the intersection I was ambushed by a symbiote. I used both Emma and Juggernaut to take him down to 2% and finished him off with Proff-x, all charges in the bag.
From here on out it was very smooth sailing. I finished everyone, including Magik, without using a revive. And used my potions to get to 100% to make the attack damage of the enemies as minimal as possible. Thanks to the charges my suicide poison healed the recoil damage almost fully, and the only damage I took was from mistiming and other mistakes.
Before I knew it I stood in front of Maestro. This run went really really great, and at 30% the thought of a one shot started to crawl into my head. But at 22%, I sadly made a mistake, and was killed.
Pumped Colossus full of potions and finished the job.
I would have really loved to pull Aegon from the 2 crystals I got. Purely for the irony of waiting for him for so long, and getting him by doing the thing I wanted him for. But my pulls were kind of in the middle.
I already had a generic and skill AG lying around for Aegon if I ever get him. But rng decided I should have a back-up skill gem, just in case the first one doesn`t work I guess.
All in all I was way more scared of the Labyrinth than I should have been. And I`m really glad I did it all for free.
I have played around with my 4* Aegon quite a bit in the past. But I honostly believe. For a player that has intermediate skills at best. Colossus might actually be a far better option for an initial clear. You can get hit a lot without really being punished, especially later in the fight, and after you have done the sp3.
Again I want to thank KT1 for all his great information. He is a big reason why I attempted this run, and succeded.
So whats next, an initial Abyss clear?
Colossus, Omega, Doom, Corvus and Nick Fury team? Who knows. Guess it kind of depends whether or not the gifting event happens this year. And my friends are willing to give me some juicy revives and potions.
A LOT OF PRACTICE FIRST> AND HOPEFULLY RNGSUS BLESSES ME WITH MY VERY OWN AEGON.
Thnx for reading (if you did)
Post edited by Kabam Porthos on