Summoners, due to a technical issue, this week's series of Alliance Quests will be cancelled at 4pm PT. There will not be any Rewards for this series. The next series of Alliance Quests will start on April 18 at 12pm PT. We will be assessing the impact on Alliances and compensating accordingly, as well as returning Alliance Tickets.
AVAILABLE NOW: Hotfix 15.1.2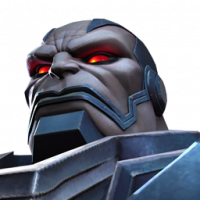 Kabam Miike
Posts: 6,597
Administrator ›
Hey Everybody!

Thank you all for all of the information that you provided on bugs that arose following the release of version 15.1. We've recently just issued a fix for a bug that was causing Summoners some trouble with performing actions immediately following the use of a Special Attack, and have some more bug fixes on the way! These fixes listed below, however, will require a new update to the Game.

We are currently working on a hotfix build that we hope to have live within the next week. With this hotfix, we'll be able to address the following issues:

- Activating a special attack can be interrupted by the player or the opponent, resulting in the Special Attack being cancelled, while the power required is still being used.
- Some users on iOS devices will need to download the game files multiple times. This fix is only for iOS devices. If you are an Android user that is encountering this issue, please refer to this article for troubleshooting tips: http://kabam.force.com/PKB/articles/en_US/FAQ/Background-Downloading-for-Android
- Some users are unable to download all of the game files after updating. This will result in some missing assets or artwork in game.
- 6-Star Crystal Shards will not display in the Crystal screen. This is strictly a visual bug, and all shards are still accounted for, though not visible at this moment.
- Vision and other champions that utilize Power Steal or Power Burn on special attacks were running into complications with their abilities.

We now have a fixes ready for all of these issues, and are currently working on testing them to ensure that they will in fact perform as expected, and will not cause any knock on issues. We do not have an ETA for this new build to be out, but hope to have it ready next week. We will update you all on when this new version can be expected early next week.

Thanks again for the help that you provided in tracking down the causes of these issues. As always, we'll be continuing to work to find and fix any issues that arise as quickly and effectively as possible.
Post edited by Kabam Miike on
This discussion has been closed.