Earlier today, there was an issue where Summoners that logged on shortly after the Login Calendar switched over for the day didn't receive the Cosmic Ghost Rider login crystal. We've fixed the issue for players receiving the crystal now but will have to collect data and send out the crystal to all players that didn't receive it next week. We apologize for this inconvenience and look forward to making it right for you all.
Looking for 13-15 members or to merge smaller alliance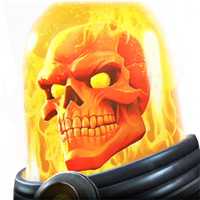 Matrixdemonmemegod1
Posts: 112
★
Need 13-15 active members above or around 4800prestige. Silver ally, active war and aq. At time of writing 22 members of which 7 mostly inactive, while merging,further reductions while joining/merging to be decided. In case of merge,Will ensure bipartisan division of power while merging, 1 leader, 3 original officers and 4 new officers from merging alliance (if it happens).
Alliance name- GolemWarden[2.0]
Alliance tag- SyleY
Please help us, we have been previously betrayed by rogue members.