Sinister is a tune up away from being the best mutant champion in the game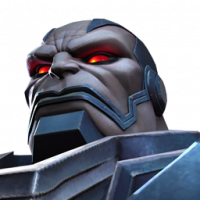 KDSuperFlash10
Posts: 5,045
★★★★★
Mister Sinister. The forgotten KING. I have been enlightened by the mighty
@Pokémonmastah
about the power of Mister Sinister the god.
He debuff reflects ALL debuffs (yes, every single one) making him basically debuff immune. This means that he is the Emma Frost of mutants, but that's not all he has.
Also Sinister gains benefits against every class making him the mutant She Hulk cuz he gets stronger against different class opponents.
Sinister is also basically immortal like immortal hulk and corbus cuz he can regenerate health taken, making him basically unkillable.
But that's not all. He can block unblockable special attacks. yeah you heard that right. He can block the unblockable. Pretty nutz if you ask me.
He is also basically like Quake because his sp2 and sp3 inflicts a thick 100% AAR (same as the OP Quake) meaning he can negate all abilities. Pretty OP if you ask me.
Sinister is also like Warlock cuz both of them power drain off the sp3, making them power control gods.
Sinister is also basically Corvus in terms of critical hits cuz when charging heavy he gets crit and crit damage buffs, making his next hit likely to be critical, just like Corvus.
Sinister also has a unique ability where he can pause all debuffs on the opponent, including parry stuns, concussion (100% AAR), and degeneration, among other debuffs. This has some crazy potential ngl.
On top of all of this Sinister has some sick synergies, especially with Apocalypse that makes Apocalypse fully ramped up immediately.
Now all of this looks insane, and it really could be with a simple tune up. If they tweaked his abilities to make them work together a bit more Sinister has the potential to be an absolute god. In my opinion they need to tune up his crit and crit damage potency as well as his degeneration potency to make his damage better, but his utility atm is nuts.