As we continue to work to address ongoing issues regarding Parry and Evade, we will be extending the Week 4 Quest of the Summer of Pain and its Solo Objectives by 1 week to better allow you to complete this content. This will not result in next week's content being delayed.
LF 1-2 | AW-focused | AW Plat4 T3 | AQ 5x5/285 mil | Line | Grown-up | Party hats!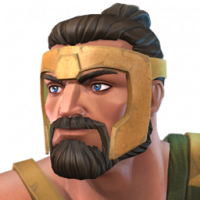 QuietusDK
Posts: 40
★
Well; hi there. If you're reading this, you're either bored enough to trawl the forums for anything, or you're looking to see if this could be something for you.

So let's begin at the beginning: Who we are.

We are an AW-oriented alliance, who have slowly, but surely, climbed up the rankings across the past many seasons, from the humble beginnings to managing to land, and comfortably hold on to, plat 4. More specifically, we took Rank 203 in the last season. Not half bad for a 33 mil alliance. We run 2BG mostly to allow people some modicum of personal life as well, so there's some rotation going on to ensure everyone shares in the fun. We're fairly serious about AW, as one of the few things, as we aren't exactly a pod of whales able to just randomly throw R3s at whatever stands in the way. So we work by being coordinated, and dedicated. If you want to rock out with us, we expect you to be the same.

AQ runs mostly on autopilot, 5x5 with full epic mods. It's enough to land us 285'ish mil per cycle, and that's enough for us – many of our members came to us because they had burned out on AQ6 costs, and we respect that, and have no plans to move on up.

So far, so good, you're thinking. But what of the important stuff? Will my cavalier crystals all churn out 6* once I join, or is the luck stone-cold and I'll be doomed to eternally dupe Iron Fist in every 6* going forward?
The short answer, unfortunately, is that once you join, I will begin siphoning your crystal pull luck. As the evil overlord, it is my prerogative. So I guess you should know that in advance of joining us. I _will_ drain you of crystal pull luck. But on the flip side, think of how awesome your max sig Iron Fist will be!

On the practical side of things:
We are primarily an EU/UK alliance, but we have a fairly sizeable US/Canadian group as well, not to forget our Indian/Bangladeshi players. So we're pretty diverse on timezones.
We're also pretty reasonable human beings. Most of us are into our adult lives, and a fairly good number of us have kids. This means we get enough childish drama on the homefront every day, so we tend to not be interested in it in game, or on Line.

Similarly, we are pretty much un-uptight. The only things that we won't go for is sexism, bigotry and racism. So I suppose if you identify as any of that, we aren't the place for you, otherwise, we'll likely get along just fine.

But if things are so perfect, then why are we even looking for more members? Aren't we already at peak performance and perfection?
Pretty much, but there are just a few kinks in the armor that need working out, and we have 1-2 members seeking adventures elsewhere – primarily outside of the game, if I'm informed correctly. So that's why we are looking for replacements prior to the new season.

So, are you the one(s) we are looking for? If so, you can get in touch with me here, or even better, on Line: QuietusDK.

Yes, there'll be an interview.

Yes, you're expected to be able to formulate sentences without abbreviations.

Yes, there may be donkeys involved.
...Donkeys, mariachi bands and party hats.

So go get your game face on, and let's talk.