As we continue to work to address ongoing issues regarding Parry and Evade, we will be extending the Week 4 Quest of the Summer of Pain and its Solo Objectives by 1 week to better allow you to complete this content. This will not result in next week's content being delayed.
55mil P1 AW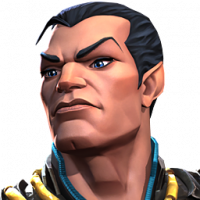 Axesaiz
Posts: 192
★
Ally name: Poseidon

Finished last season in P1, tier 2.

LF1 skilled, active player that is North American based.

AQ - Mostly 6x5, 5x5 in season and 66777 mostly offseason. We like to prioritize war in the season.

Minimum prestige 12K. Must be a strong and reliable communicator, this is non-negotiable. Line mandatory. Must be skilled and roster must be able to keep up with AW tier 2 and AQ while both are going. MUST be able to handle their own in AW.

Bonus points if you're a skilled quaker/ghost user(True Focus aside)/mini and boss killer.

Serious inquiries only, PM Axesaiz on line.