Summoner Sigil Exp Boost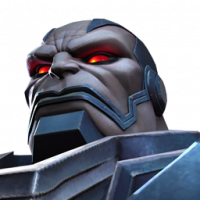 TrapKill66
Posts: 96
★
Hi Summoners,
Looking for feedback from the community that hopefully Kabam will take on board regarding the Exp boost that the Sigil provides.
I reckon that once an account reaches level 60 the Exp boost should become some other kind of boost.
Obviously this is because the boost is purposeless for a level 60 account.
My initial thought is that it could become a 10% attack/health increase. Maybe even just a 5% boost to both. Or perhaps a selectable option between health or attack. Gold boost? Minor rank up shard collection boost?
It's likely this is not a good idea from Kabam's perspective, as they'll want us to purchase this type of boost. But any ideas or feedback from y'all is welcome. Also, these types of boost are available quite easily without a unit purchase.
At 2 years in, I'm unaware if Kabam have ever increased the account level from some lower number to its current level of 60. Maybe there are plans to increase account levels in the future. But this is not really a good idea, lifting the ceiling on champion levels and star rating is the future of the game, as per the recent revelation of rank 4 6 stars.
Thanks,
TrapKill66.