**Attention Summoners**
Due to issues surrounding Defensive Tactics, points from the current matchup in Alliance Wars will be removed after the season.
War Rating will not be manually adjusted.*
We are reducing the minimum matchup cutoff from 5 to 4 for this season.
We will continue to monitor the impact of this decision.
Solve the Mystery and Save The Contest this September!
Kabam Boo
Posts: 840
Administrator ›
★★★★★
THE MYSTERIOUS CONTEST: PART 1
IT'S A MYSTERY!
Can you feel it, Summoners? There's been a change in the winds. Something strange is affecting the Contest… Team up with Kitty Pryde and the Marauders to solve the mystery and save the Contest!
EVENT TL;DR
Complete Solo Objectives > Earn weekly rewards > Get clues to next month's event!
No side quest again!
***IMPORTANT
: September and October are linked and make up
two (2) parts of the SAME EVENT
. Please refer to the rest of this post for Part 1 of this event and October Sneak Peek section for more information on Part 2 of this event.
SOLO OBJECTIVES
Start: September 1, 2021 @ 10AM (PT)
End: November 3, 2021 @ 10AM (PT)
**Part of October event!
Complete solo objectives for this month's rewards! Look for hidden clues to next month's event!
Note:
New set of objectives will unlock EVERY WEDNESDAY (last set from Part 1 unlocks on September 29, 2021).

You MUST complete the previous set of objectives before you can SEE the next set!

Each Summoner title (Cavalier, Uncollected, etc) will receive a VARIATION of the Solo Objectives; you will see Solo Objectives for your level and all levels below.

You only need to complete one (1) variation of Solo Objectives to earn clues and gain access to next month's event!

Rewards
OCTOBER EVENT SNEAK PEEK
Start: 10/06/2021 @ 10AM (PT)
End: 11/03/2021 @ 10AM (PT)
Unlock these Special Quests when you complete
AT LEAST one (1) Solo Objective from Week 5
in the September event (at any level):
Repeatable Rewards Quests (total 28 entries; choose the rewards you want most!)

One-time Rewards Quest (each reward can only be earned ONCE!)

**Details to follow in October event post
.
Rewards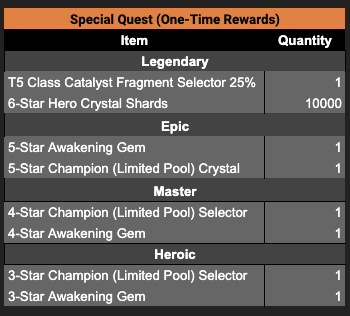 MARAUDER MYSTERY CRYSTAL
Start: 09/01/2021 @ 10AM (PT)
End: 10/09/2021 @ 10AM (PT)
Sleuth your way to a Marauder Mystery Crystal for a chance to win yourself a new Champion, from a limited pool of Champions. Available in Cavalier for Cavaliers and up (4,000 Shards) and Grandmaster for Uncollected and below (3,000 Shards).
Champion pool
:
Bishop
Black Panther
Black Widow
Colossus
Cyclops (Blue Team)
Cyclops (New Xavier School)
Doctor Strange
Electro
Emma Frost
Ghost Rider
Hyperion
Iceman
Magneto
Nightcrawler
Professor X
Psylocke
Spider-Man (Classic)
Star-Lord
Storm
(4-Star Cyclops (New Xavier School) NOT included)
MARAUDER MYSTERY CALENDAR
Start: 09/02/2021 @ 5PM (PT)
End: 10/07/2021 @ 5PM (PT)
The Marauder Mystery Calendar is a 7-Day login calendar, featuring Marauder Mystery Crystal Shards. Log in everyday to collect your Crystal Shards!
IMPORTANT
: If you miss a day, the Calendar will reset to Day 1. When the calendar reaches Day 7, it will also reset to Day 1.
Post edited by Kabam Boo on