Due to issue with the "Not Another Anime Reference" Solo Event, we will be disabling the event for the time being. We will return the event at a future date when the issues have been resolved. We apologize for the inconvenience.
**BANQUET EVENT PSA**
To fully participate in the upcoming Banquet's Alliance Event you will need to be in your alliance for 14 days prior to the event's start date on December 20th. That means, stay in your alliance from December 6th onwards to enjoy all there is to offer in the Banquet event.
Here's How I'd Do A Spider-Man Overhaul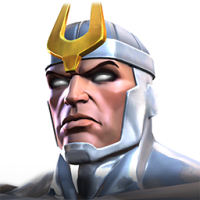 ThatGuyYouSaw235
Posts: 3,091
★★★★★
Here's a Spider-Man concept I decided to throw out on here that was meant for a concept for a month's worth of content.
Spider Sense
- Always Active:
Spider-Man has a flat 8% chance to Evade any incoming attacks. This will not occur if Spider-Man is attempting to block.
Evade Ability Accuracy is set to 100% for 2 seconds if the opponent would attempt to strike Spider-Man with an Unblockable hit or if a #Sinister Six champion would attempt to hit Spider-Man with a Special Attack.
If Spider-Man Evades an attack, he inflicts a non-stacking Weakness debuff, reducing the opponent's Attack Rating by
-35%
for 15 seconds.
Critical Hits:
Critical Hits gain
+400
Critical Damage Rating for each unique debuff inflicted on the opponent during the fight.
Dashing Back And Holding Block:
Dashing Back and Holding Block for 2 seconds activates Spider-Sense. Spider-Man gains an Evade Charge giving him a
100%
chance to evade the opponent's next attack. Spider-Man will not attempt to Evade during the opponent's Special Attacks.
If Spider-Man evades this way, the opponent is Webbed. When the opponent is Webbed, they are Rooted for 3 seconds and are inflicted with a Slow debuff lasting 20 seconds.
#Villain Champions are inflicted with a Taunt debuff when they are Webbed, reducing the opponent's Attack Rating by
-20%
and increasing the chance to throw a Special Attack by +60% for 15 seconds. Champions suffering from Taunt fight more aggressively.
Once Spider-Man evades, this Evade Charge is consumed and goes on cooldown for 12 seconds.
When Charging A Heavy Attack:
If the opponent is Rooted, all incoming hits have a 100% chance to Miss.
Heavy Attacks:
Gain a non-stacking Precision Passive increasing Critical Rating by
+2500
for 2 seconds.
Special 1:
Web Attacks inflict a Suppression debuff reducing the opponent's Defensive Power Rating by
-20%
for 16 seconds. Max: 2.
Special 2:
This Attack deals a burst of Physical Damage equal to 65% of the Attack's damage.
If the opponent suffers from a Root Effect, this Attack gains
+3000
Critical Rating.
Special 3:
Spider-Man gains a
Fury
Passive increasing his Attack Rating by
+40%
lasting 40 seconds.
Inflicts a non-stacking Fragility debuff lasting 40 seconds, this increases Spider-Man's Critical Damage Rating by
+1200
when attacking the opponent.
Signature Ability:
- My Spider-Sense Is Tingling…
Personal Debuff Duration excluding Stun Debuffs is increased by
+5% - +30%
.
If Spider-Man causes an Evade or Unstoppable Effect to fail on the opponent, he inflicts an Armour Break debuff reducing the opponent's Armour Rating by
-200 - -500
for 6 seconds.
Can't be bothered to add synergies right now, might add them later.
Feedback would be appreciated.