Please note that when we enable the 1 Loyalty Cost for Revives in Alliance Wars for Season 34, they will not be visible from the screen that appears when you choose to Revive or Heal a Champion from the Fight Screen.

You will be able to purchase Revives from the Loyalty tab in the Store Menu.
Known Issue: Rare Bug Causing Duplicate Defenders in Alliance Wars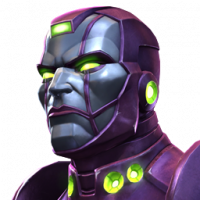 MCOC Team
Posts: 337
Administrator∙Moderator ›
Greetings Summoners,

There is currently a very rare issue occurring where some Summoners' Defenders are duplicated during placement in Alliance Wars.

We are currently working on a fix for this issue, and hope to have it in place as soon as possible. We are going to continue with the Alliance War season and will continue to monitor the effect that this may be having on affected Alliances.

At this time, we do not have reason to believe that any Alliances can knowingly take advantage of this bug, and will not be punishing any Alliances that may have had this inadvertently occur. However, we will be monitoring the situation, and if we do find that an Alliance has found a way to knowingly take advantage of this bug, we will address it in the same way that we address all cheating.

Once this season has concluded, we will be examining how this Bug may have affected the outcome of Wars where the bug occurred, and what, if any, effect it may have had on individual Alliances. If we find there was a negative effect on any Alliances, we will work to make it right for them, but do not want to make any hasty adjustments at this time, as we do not have a complete picture of the situation.

We apologize for any inconvenience or frustration that this bug may be causing.
This discussion has been closed.