**KNOWN ISSUE**
Currently, Alliance Prestige (as it concerns Alliance Quests) is not taking Relic Prestige into account. If possible, we are working to address this for the next round of Alliance Quests but will have more information for you when it is available.
Cav 2.1 Phoenix Boss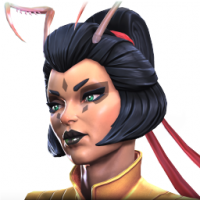 CosmicGuardian
Posts: 319
★★★
So I just did a run through of 2.1 in this month's Cav EQ, and when I got to Phoenix I encountered something I think was a bug but I'm not sure. I used Prof X for the boss thinking that he should have no problem getting around the buffed up node once he builds his prowess. However, I noticed that even once I had multiple prowess, even so much as 9, he wasn't dealing any damage unless he had the power gain buff from the node. Is there some kind of interaction I'm missing, or is this a bug?