Wong listed in Mordo's Synergy (and a Coming Soon)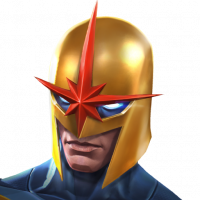 altavista
Posts: 792
★★★
Per the champion spotlight,
"Too Many Sorcerers – Unique Synergy (4-Star+)

With Doctor Voodoo, Sorcerer Supreme, Wong, Coming Soon

Mordo: While fighting Mystic Champions, Mordo is Immune to Nullify and Fate Seal.
Synergy Champions: +6% Attack Rating."

Rintrah (don't know who that is) is listed in a Synergy, so Coming Soon is someone else potentially (although could just be a mistake to have listed it).

Who do we think "Coming Soon" will be from the new Doctor Strange movie?