Due to issues affecting Alliance Wars, Alliance War Season 36 will be postponed until August 19th, 2022 and the minimum number of Wars Summoners are required to participate in to qualify for rewards will be reduced to 4.

The currently active War will not count towards the Season.
Alliance War Season 36 Changelog and Loyalty Store Update [NODE CHANGES CORRECTED]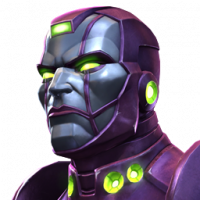 MCOC Team
Posts: 344
Administrator∙Moderator ›
Forward
Time for the start of a new War Season Summoners! This Season has got a good number of changes, including a massive update to the Loyalty Store. A new Attack Tactic, and the rotation of Expert Tactics!
Timeline
Pre-season 36 begins: Wednesday, August 3rd
Season 36 goes live: Wednesday, August 17th
Rewards Update
The major AW rewards update this season comes to the Loyalty store. For the first time ever, players will be able to spend Loyalty on valuable champion upgrade materials. The materials available are the most prized in the game, and the intent is for players to have to save up for their purchases and choose between the different options. Nobody will be able to buy everything available every season, this is not the Glory store.
This update will turn Loyalty from a fringe currency into something that is very valuable. We are hoping it will make all players feel like we are rewarding their time and effort spent in AW. These changes will go into effect when the Pre-season starts.
All items have a 41-day purchase limit refresh.
While AW Ranked Rewards received a relatively recent update, they remain undertuned compared to rewards elsewhere in the game. Our intention is for the top AW ranked rewards to be among the best rewards in the game. While we did not get a chance to update them this season because of our work to update the Loyalty store, we have put together a more scheduled process so that they receive more frequent updates moving forward. Expect another update later this year.
Boosts Update
At the start of Season 36(not pre-season) we will be making an update to the current acquisition of Class Power Boosts. We'll be moving these to shift into a similar space as Grey Boosts. The new look for them in the store will be as follows.
All 200% Class Power Boosts will be set to a 1/week purchase limit for 10,000 Loyalty
All 150% Class Power Boosts will be set to a 1/week purchase limit for 5000 Loyalty
All 200% Class Power Boosts will have a new 250 Unit cost option in the Boost Store
All 150% Class Power Boosts will have a new 125 Unit cost option in the Boost Store
Tactic Updates
New Tactic Rotation for Expert Map.
Season 36 will see the introduction of "Conduit", as well as "Sick and Tired" in Expert! These will carry through season 37 as well.
New Tactic
Attack Tactic - Debuff Detox:
Whenever the Attacker Blocks or Dodges an Attack they gain 1 Detox Charge, up to a max of 6. If the Attacker reaches Max Detox Charges they will consume all Charges and become Debuff Immune for 5 seconds. Whenever the Attacker throws a Special Attack or a Debuff is applied to them, consume all Detox charges and remove 1 of each Debuff affecting the Attacker.
Dev Note: Something Key to this tactic, is that this is expressly not a Purify to remove the debuffs. This means you should be able to get around someone like Bishops Purify Punishment with using this Tactic.
Pool: Coming Soon, Spider-Man (Stealth Suit), Hawkeye, Thor (Ragnarok), Karnak, Misty Knight, Gwenpool, Hood, Mysterio, Venom, Venompool, Gorr, Guillotine, Thor (Jane Foster), Havok, Symbiote Supreme, Professor X, Colossus, Falcon, Black Widow (Deadly Origin), Tigra, Ultron, Nebula
Tactics By Map
Expert:
Defence - Conduit 3:
Conduit Defenders Regenerate 80% of energy Damage taken from Hits. While under the effect of a Coldsnap, Shock, Plasma, or Incinerate effect, they Regenerate 60% of any damage taken. Conduit Defenders cannot have their Regeneration Rate affected. Each time the Defender is Knocked Down apply one of the following debuffs in order: Shock, Plasma, Coldsnap, then Incinerate Debuff dealing 0 Damage over 10 Seconds.
Pool: Silver Surfer, Mister Sinister, Darkhawk, Blade, Sabretooth, Diablo, Mephisto, Hulk Immortal, Angela, Magneto, Sersi, Hulkbuster, Terrax, Guardian, Human Torch, Cable, King Groot, Mordo, Hyperion, Storm Pyramid X, Namor, Doctor Doom, Dr.Voodoo, Green Goblin, Galan
Attack - Sick and Tired:
While the Defender has 3 or more Debuffs, the Defender is Passively Heal Blocked. While this Heal Block is active, Defender's Unblockable Ability Accuracy is reduced by 100%
Pool: Blade, Medusa, Hyperion, Black Widow(Deadly Origin), Apocolypse, Cosmic Ghost Rider, Nebula, Captain Marvel, Havok, Symbiote Supreme, Angela, War Machine, Sunspot, Elsa Bloodstone, Hit-Monkey, Bishop, Anti-Venom, Knull, Masacre, Terrax, Hulkbuster, Ikaris, Luke Cage, Spider-Man 2099, Spider-Ham
Challenger Map: Pick 1 of 3 (from Attack and Defense)
Attack: Defiance, Debuff Detox, Sick and Tired
Defense: Conduit - 2, Miss-tic Dispersion, Unstoppable Armor
Hard Map: Pick 1 of 3
Attack: Defiance, Debuff Detox, Sick and Tired
Bans v2
As mentioned previously, Season 36 will be the Kick off of the Blacklist/Whitelist feature in Bans v2. Blacklisted Champions will be unavailable for use on Attack for the duration of the season and will not count towards Alliance/Battle Group Bans. Here's how it will breakdown for Season 36:
Expert:
Blacklist - Human Torch, Hercules
Challenger:
Blacklist - Human Torch
Node Changes
In an effort to add more threat to Path 3 (Armor Path Lane), we were theorizing some ideas to help push that meta forward without narrowing the counters down to a specific few. What came out of those talks was instead of focusing on damaging threats to the Armor, why not pick a few characteristics of the ideal class that is meant to be placed on these nodes, and amplify key characteristics? The next nodes are what we developed in order to incentivize said threat…
Electric Defense - 3
Defenders under the effect of an Armor Up Buff will Power Burn the Attacker for 25% of a Bar of Power. Power Burn Damage scales with each Armor Up Buff, as well as Defenders Base Attack.
Spaced Armor - 3
While the Defender has an active Armor Up Buff, they are immune to the effects of Nullify, Fateseal, and Stagger. While an Armor up Buff is Active striking the Defender will Special Lock the Attacker for 6 seconds.
Sloped Armor - 3
Each Armor Up Buff gives the Defender a 30% Chance to Glance incoming Attacks.
With that in mind, Path 3 got a full rework and the following nodes have been changed…
Node 6
OLD
NEW
EXPERT
EXPERT
Champion Boost 150%
Champion Boost 150%
Health Boost 100%
Health Boost 100%
Hit Me, I Dare You
Electric Defense - 3
Static Defence - 3
Spaced Armor - 3
Heavy-Handed
Backboard Brawler
Return Policy - 3
Opportunist - 3
CHALLENGER
CHALLENGER
Champion Boost 100%
Champion Boost 100%
Health Boost 75%
Health Boost 75%
Hit Me, I Dare You
Electric Defense - 2
Static Defence - 2
Spaced Armor - 2
Heavy-Handed
Backboard Brawler
Return Policy - 2
HARD
HARD
Champion Boost 100%
Champion Boost 100%
Health Boost 75%
Health Boost 75%
Hit Me, I Dare You
Electric Defense - 1
Static Defence - 1
Spaced Armor - 1
Heavy-Handed
Backboard Brawler
Return Policy - 1
INTERMEDIATE
INTERMEDIATE
Champion Boost 75%
Champion Boost 75%
Health Boost 25%
Health Boost 25%
Hit Me, I Dare You
Electric Defense - 1
Static Defence - 1
Backboard Brawler
Heavy-Handed
Node 32
OLD
NEW
EXPERT
EXPERT
Champion Boost 200%
Champion Boost 200%
Health Boost 100%
Health Boost 100%
Enhanced Armor Up
Sloped Armor - 3
Enhanced Bleed
Chitinous Thorns
Chitinous Thorns
Enhanced Bleed (80)
Cutting Wires
CHALLENGER
CHALLENGER
Champion Boost 150%
Champion Boost 150%
Health Boost 75%
Health Boost 75%
Enhanced Armor Up
Sloped Armor - 2
Chitinous Thorns
Chitinous Thorns
Cutting Wires
Enhanced Bleed (40)
HARD
HARD
Champion Boost 150%
Champion Boost 150%
Health Boost 75%
Health Boost 75%
Enhanced Armor Up
Sloped Armor - 1
Chitinous Thorns
Chitinous Thorns
INTERMEDIATE
INTERMEDIATE
Champion Boost 100%
Champion Boost 100%
Health Boost 50%
Health Boost 50%
Enhanced Armor Up
Sloped Armor - 1
Chitinous Thorns
Chitinous Thorns
Node 42
OLD
NEW
EXPERT
EXPERT
Champion Boost 200%
Champion Boost 200%
Health Boost 100%
Health Boost 100%
The Best Defense... 3
Sloped Armor - 3
Explosive Personality
Static Defence - 3
Enhanced Armor Up
Enhanced Shock
Heavy-Handed
CHALLENGER
CHALLENGER
Champion Boost 150%
Champion Boost 150%
Health Boost 75%
Health Boost 75%
The Best Defense... 2
Sloped Armor - 2
Explosive Personality
Static Defence - 2
Enhanced Armor Up
Enhanced Shock
Heavy-Handed
HARD
HARD
Champion Boost 150%
Champion Boost 150%
Health Boost 75%
Health Boost 75%
The Best Defense... 1
Sloped Armor - 1
Explosive Personality
Static Defence - 1
Heavy-Handed
Enhanced Shock
INTERMEDIATE
INTERMEDIATE
Champion Boost 100%
Champion Boost 100%
Health Boost 50%
Health Boost 50%
The Best Defense... 1
Sloped Armor - 1
Explosive Personality
Static Defence - 1
In addition, the following Mini Bosses have been changed to help reflect the changes of this new path…
Node 20
OLD
NEW
EXPERT
EXPERT
Champion Boost 150%
Champion Boost 150%
Health Boost 100%
Health Boost 100%
Strike Counter - Fury
Strike Counter - Fury
Hit Me, I Dare You
Spaced Armor - 3
Static Defence - 3
Masochism Over Time - 2
Masochism
CHALLENGER
CHALLENGER
Champion Boost 100%
Champion Boost 100%
Health Boost 75%
Health Boost 75%
Strike Counter - Fury
Strike Counter - Fury
Hit Me, I Dare You
Spaced Armor - 2
Static Defence - 2
Masochism Over Time - 1
Masochism
HARD
HARD
Champion Boost 100%
Champion Boost 100%
Health Boost 75%
Health Boost 75%
Strike Counter - Fury
Strike Counter - Fury
Hit Me, I Dare You
Spaced Armor - 1
Static Defence - 2
Masochism Over Time - 1
INTERMEDIATE
INTERMEDIATE
Champion Boost 75%
Champion Boost 75%
Health Boost 25%
Health Boost 25%
Strike Counter - Fury
Strike Counter - Fury
Hit Me, I Dare You
Spaced Armor - 1
Static Defence - 1
Node 46
OLD
NEW
EXPERT
EXPERT
Champion Boost 200%
Champion Boost 200%
Health Boost 100%
Health Boost 100%
Strike Counter - Power Rate
Strike Counter - Block Penetration
Outlast
Outlast
Buffet - 3
Never Back Down - 3
Chitinous Thorns
Sloped Armor - 3
CHALLENGER
CHALLENGER
Champion Boost 150%
Champion Boost 150%
Health Boost 75%
Health Boost 75%
Strike Counter - Power Rate
Strike Counter - Block Penetration
Outlast
Outlast
Buffet - 2
Never Back Down - 2
Chitinous Thorns
Sloped Armor - 2
HARD
HARD
Champion Boost 150%
Champion Boost 150%
Health Boost 75%
Health Boost 75%
Strike Counter - Power Rate
Strike Counter - Block Penetration
Outlast
Outlast
Buffet - 1
Never Back Down - 2
INTERMEDIATE
INTERMEDIATE
Champion Boost 100%
Champion Boost 100%
Health Boost 50%
Health Boost 50%
Strike Counter - Power Rate
Strike Counter - Block Penetration
Outlast
Outlast
Post edited by Kabam Miike on