**UPDATES TO ENLISTMENT GIFTING EVENT:**
To prevent exploitation, we will prevent new Accounts from being able to Gift enlistment crystals. We will also be taking action on those who are using 3rd Party Sellers, Bots and other farms to gift themselves mass amounts of Enlistment Crystals. Lastly, we will be adding an expiration timer to Enlistment Crystals. All unopened Enlistment Crystals will expire on Oct 18 @ 17:00 UTC. For more information, please see this post:
https://forums.playcontestofchampions.com/en/discussion/346104/updates-to-enlistment-gifting-event
**KNOWN ISSUE**
We have adjusted the node placement of the new AW maps to better allow path traversal. As a result, defender placements have been reset. Please, take a moment to re-place your defender setup. We will be pushing out a message in-game shortly.
Will we ever get wish crystals?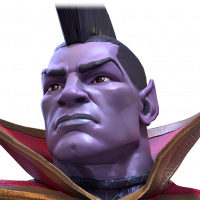 Wozzle007
Posts: 786
★★★★★
So last night I completed the gauntlet and for my troubles the 30k in 6* got me 2x Hawkeyes (now at Sig 80) and Carnage (now Sig 60). I appreciate these aren't the worst of the worst, but they might as well have been 3 Groots for all the time they will be played. I appreciate since his buff some players really like Hawkeye. I'm not a fan of his new mechanic so pulling him twice like that absolutely sucked for me. Carnage is fun enough champ but again, he's not on my wanted list. Neither champ is someone who I'd wish for. The nexus, had Wasp, Spider Gwen and Nick Fury. Chose Nick Fury for the extra sigs and arguably this is a decent Nexus but again, it's not what I'd wish for. I although I doubt wish crystals would effect the mechanics of nexus crystals.

So I'm just looking to see if the wish crystals that I think was in the 2020 road map are still on the agenda. I'm not going to say we were promised these, only that wish crystals were part of plan and we know plans can change. Just want to see if they are still intended or whether we should expect them to be added to the game after bases and forget they were ever mentioned.

Yes we all know this is an RNG based game and not every pull will be amazing and what the player wants. I'm just asking if there is any update on a proposed change to the game or whether this has been dropped. No one is asking for a change to the RNG properties of the game outside of what was in the road map. If the plans been changed it would be great if we could know.
Post edited by Kabam Porthos on