**UPDATE**
We are currently working to fix a known issue regarding Alliance Prestige. With the introduction of Relics, Summoner Prestige is now the average PI of your Top 5 Champions and the average PI of your Top 5 Relics (regardless of which Champion they are attached to) combined.

Today we pushed a fix that will allow for proper reward calculations in Alliance Quests. However, the display for Alliance Prestige will not be accurate and does not include Relic Prestige. This is a display issue only.

**KNOWN ISSUE**
Some items are displaying erroneous star ratings. This seems to be happening most on items where typically there are no star ratings. We have found the cause for the issue and it will be resolved, targeting mid-late next week.
Grandmaster's Gauntlet - Update: Oct. 4th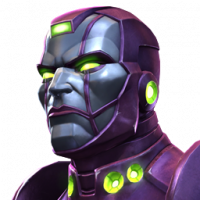 MCOC Team
Posts: 383
Administrator∙Moderator ›
Hello Summoners,

We wanted to update you all on the process surrounding the Grandmaster's Gauntlet's return with all the information we have available to us!

As many of you know, in early September, the Gauntlet had a full progress reset for some summoners, but not all. This meant an unbalanced amount of rewards distributed between players. After briefly trying to figure out why this happened, the game team decided to temporarily remove the mode until we could discern the cause of the progress reset.

The team is continuing to investigate but the cause has proven to be a little more illusive than we anticipated.

Our priority is bringing back the mode in a way that provides the same rewards access to all Summoners. We have explored creative alternatives to getting the mode back in Summoners' hands sooner. For example*: Bring the Gauntlet back, but completion offers no rewards. Then, we would assign a Solo Objective to players who have claimed rewards fewer than X times and completing the objective would allow you to claim the rewards. This, in theory, would be a potential way to bypass the possibility of progress resetting again in the future.

The timeline to bring back the Grandmaster's Gauntlet is uncertain; we don't want to risk disrupting Summoners' progress again. We wish we could give you a specific date, but since we don't have one, we thought it best to update you all with the process and progress thus far.

-MCOC Community Team


*this is simply a concept the team has discussed and it being mentioned here in no way guarantees its release.