**Attention Summoners**
Due to issues surrounding Defensive Tactics, points from the current matchup in Alliance Wars will be removed after the season.
War Rating will not be manually adjusted.*
We are reducing the minimum matchup cutoff from 5 to 4 for this season.
We will continue to monitor the impact of this decision.
Changes to Champion Refresh Timers/Costs in Incursions and Arena - LIVE NOW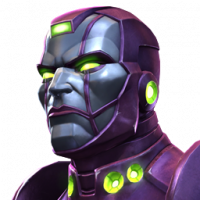 MCOC Team
Posts: 429
Administrator∙Moderator ›
Greetings Summoners!
With 7-Star Champions on the horizon
(watch our live stream this Friday to find out when they'll be released. Click here for more info)
, we wanted to take this opportunity to update the Refresh Timers on Champions in Incursions and Arenas and adjust the Unit Costs to refresh 5 and 6-Star Champions in Arenas.
Incursions Refresh Timers are being updated to:
1-Star: 5 hours
2-Star: 5 hours
3-Star: 5 hours (down from 20 hours)
4-Star: 20 hours (down from 44 hours)
5-Star: 44 hours (down from 92 hours)
6-Star: 92 hours (down from 140 hours)
7-Star: 140 hours (new)
Arena Refresh Timers and Costs are being updated to:
1-Star: 2 hours/5 Units
2-Star: 2 hours/5 Units
3-Star: 2 hours/5 Units
4-Star: 2 hours/5 Units
5-Star: 2 hours (down from 7 hours)/5 Units (down from 10 units)
6-Star: 7 hours (down from 11 hours)/10 Units (down from 20 units)
7-Star: 11 hours (new)/20 Units (new)
UPDATE: These Changes are now Live!
Post edited by Kabam Miike on