Incoming Bug Fix: Doctor Voodoo Invisible Debuff Fix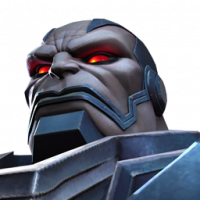 Kabam Miike
Posts: 6,319
Administrator ›
Summoners,

We are currently testing a fix for a bug that you all discovered in the fight with Void. Players reported that Void's Passive Ability that interacts with Debuffs on the opponent was also activating on Doctor Voodoo, when he had no Debuffs, and only had his Regeneration active. This is not a bug with Void, but one with Doctor Voodoo.

The bug is in fact that Dr Voodoo (the only one we know of right now that is affected by this) has had an inadvertent invisible debuff on him at the beginning of the fight for 10 seconds. This also means that this Debuff was regenerating Health for the first 10 seconds of the fight if you have Willpower.

Willpower Lv1. Provided 5% Health over 10 seconds.
Willpower Lv2. Provided 6% Health over 10 seconds.
Willpower Lv3. Provided 7% Health over 10 seconds.

We only noticed this because of this bug, and fixing this will nullify the extra regen he was receiving from Willpower as well.

This fix is coming soon, and should be live by end of day, today.
This discussion has been closed.