We are currently experiencing an issue causing a delay in delivery of Summoner Advancement, the Alliance Quest event, and other 3-Day X-Men use event. We are working to resolve this, but it will likely take a few days. We will ensure that these rewards are delivered to affected Alliances. Please do not change Alliances until your rewards are delivered.
Running Multiple teams in SQ/EQ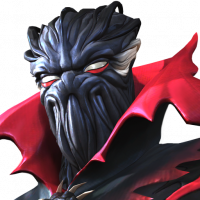 Crazyjack719
Posts: 392
★★
Hey Mods and Dev team,

This has probably been suggested before and has most likely been discussed to death, but i would like to maybe suggest being able to run multiple teams across Story and Event Quests, those with quite stacked rosters have champs that are just getting wasted because they are not viable for AQ and AW, but could be useful in Story and event quests.

What if you had 2 separate energy bars, one usable in story and one usable in events, with you guys releasing 6 stars and stacking an amazing amount of content on us, it would be great as we could clear all the modes of content using 2 separate teams.

With 6 stars coming out and 5 stars becoming more available, this just seems like another progression point.

A way for Kabam to benefit would be maybe creating an energy refill that would only fill the event quest meter and the original only being able to fill the story quest meter.