Carnage Reworking Ideas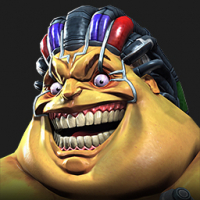 Cosmos_2002
Posts: 120
Carnage is Crazy, let's give him some unique buffs and get rid of boring ol' block proficiency, critical rate etc.

Special Attack Resistance: Reduce incoming special attack damage by 8%.
Power Gain: Increase all power gain by 3%.
Critical Resistance: 10% critical resistance.
Bloodlust: Increases bleed potency by 10%.
SPECIAL FURY: Increases special attack damage by 15%.

These new buffs are gained in the same way as they are now.
Passive effects can be removed.

Bring his critical rating to 25%
Critical Damage to 180%
Base block proficiency to 50%
Base armour to 10%
Base health can remain the same.
Base attack needs to be increased a little bit.

Spidermen cannot evade his heavies and his special attacks.

Remaining base abilities can remain the same.

Signature Ability
Potency of the buffs increases by upto 100% based on how long the opponent has been bleeding, reaching the maximum bonus after 20 seconds.


Share your Ideas...