Who should I rank up for Act 5, 100% Act 4, Master events and Challanges

m4ciekk
Posts: 86
★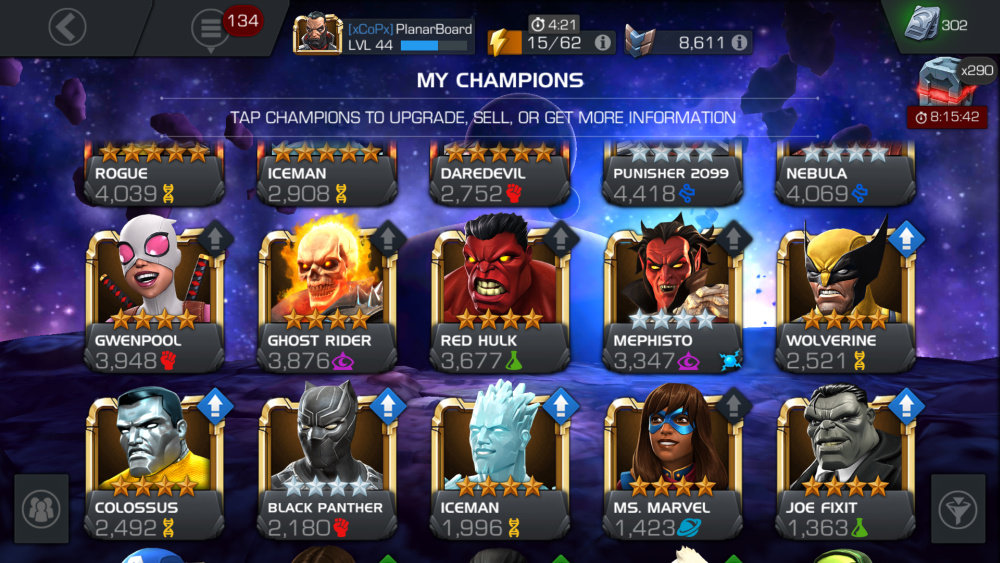 Hey everyone,
I have started new account in December 2017 and did pretty well so far but I'm stuck at Act 5 Ch 1. So i need your help fellas. I'd like to focus on 100% exploring Act 4, trying with Act 5, 100% exploring Master event quests without using any revives and future challanges such as Michael B. Jordan's.
I don't have problem with AQ/AW because of low tier (18) and low prestige of my allianceMy progress in the game:
Act 3 (100%)
Act 4 (finished)
Act 5.1.1 (finished)
RTTL (Ch3 finished)
Rise of Black Panther (100% Heroic and Master)
Michael B. Jordan's Challenge (finished)
My masteries:
Precision 5/5, Cruelty 5/5, Glass Cannon 1/3, Parry 3/3, Dexterity 1/3, Stupedy 3/3, Petrify 3/3, Pacify 3/3, Deep Wounds 1/5.
I'd like to put 1 point into Assassin and maxed it or DW at first.AQ/AW attack team:
4* R4 unduped: Gwenpool, Ghost Rider, Red Hulk
AW deffense:
4* R4: Punisher 2099 (sig 26), Nebula (sig 20)
4* R3: Mephisto (sig 20), Wolverine
5* R2: Rogue
Who should I rank up?
4* Mephisto R3 > R4: because I duped him yesterday and have got a lot of mystic ISOs. I'm just waiting for 1 mystic t3cc. He can be useful in content I have mentioned above and AWD for sure
5* Iceman R1 > R2: I think he could be helpful in Master event quests, challanges, exploring Act 4 and maybe at the begining of Ac5. Beside that I could also put him in AW defense
4* Wolverine R3 > R4: as above but Iceman could be more useful at all
4* Black Panther CW (sig 20) R2 > R4: I don't like him and don't like to rank up any champs only for AWD but he's duped and I have got lot of skill ISOs which I can throw at him or 3* Blade)