Ironman Refresh Idea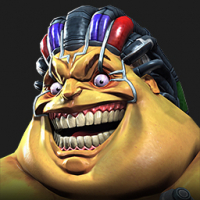 Cosmos_2002
Posts: 120
Passive: Stark AI
For every hit in the combo meter of Ironman or his opponent, increase Ironman's ability potency and attack rating by 2%. Maxes out at 30 hits. (60% increase)

Passive: EMP Burst
Idling for 1 second triggeres an EMP Burst draining 33% of the opponent's max power. Cooldown of 18 seconds.

Adaptive Armour
Gain upto 3.
30% chance to gain 1 adaptive armour up buff when struck by a critical hit.
70% to gain 1 when the opponent actives a special attack
Each provides 12% critical resistance, armour rating and special attack resistance.
All fall off when struck by a special attack.

SP1: Lasers: Bleed the opponent dealing 40% attack rating over 4 seconds. (2 bleeds)
Lasers can penetrate through the opponent's blocks. (Bleed can activate through the block)

SP2: Armour break the opponent reducing enemy armour by 50%.

SP3: Consume all adaptive armour up buffs and regenerate 3.5% max health per buff consumed.

Signature Ability

For every hit on his or the opponent's combo meter, Ironman reduces their attack rating and ability potency by 2%. Maxes out at 30 hits. (60% decrease)
Additionally, the cooldown timer on EMP burst instantly ends if the opponent crosses 90% max power.

Synergies
Gain additional critical rating base on the combo meter.
Gain additional perfect block chance based on adaptive armour.
Reduce EMP burst cooldown by 6 seconds.

Leave your thoughts and ideas in the comments.