Just an FYI.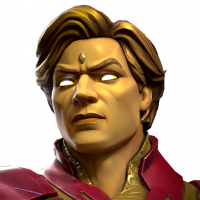 Ghriffin
Posts: 45
★
Look, no hard feelings or whatever...... All I am saying is that many people just opened multiple 15k crystals and got dog ****. I know many got Blade and my bros, couldn't be happier for you, honestly.

This post is about this current offer. Why would anyone spend 50.00 dollars for 9/10ths of a 5* Crystal when your target demographic are people that haven't pulled decent champs?

People that got Blade, duped him, have Iceman and Medusa, they don't need that deal. The people that would need it, people like me are ones that opened 5 featured and pulled garbage. Why would I pay 50.00 bucks for another 20 levels on my Iron Patriot?

There shouldn't be garbage champs in the 5* braket yet there are loads. To the point you can open 5 of them and ONLY get garbage. It should be less so for 6*s.

Stop putting trash champs in high tier crystals and maybe people will spend money.

Who is in charge of this? Maybe you should hire me and increase your profit by 75% over the next 2 years........