We are currently experiencing an issue causing a delay in delivery of Summoner Advancement, the Alliance Quest event, and other 3-Day X-Men use event. We are working to resolve this, but it will likely take a few days. We will ensure that these rewards are delivered to affected Alliances. Please do not change Alliances until your rewards are delivered.
Featured crystal query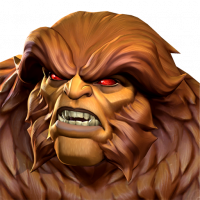 General_Vis
Posts: 138
On the featured crystal odds they're just showing odds for Taskmaster and he's the only champ shown as the top prize in the reel. However, Hela is in the pictures and I always thought you had a chance at 2 champs.

The most recent Sentinel crystals had Killmonger shown as a top prize, so has something changed? Are you just as likely to pull the last featured champ as you are any other?