MODOK needs complete rework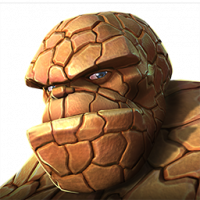 DOA40
Posts: 94
★
As the title says. I know that not everyone is going to agree with me. In fact, I'll probably get flamed heavily for what I am about to say, but it needs to be said.

MODOK either needs to be removed from the game or he needs to be completely reworked from the ground up.

MODOK is completely OP. Every fight my Alliance has come up against in AW, there has been at least one or two of them in them. And, as more and more people get him, there will be more and more Alliances who will not care about team diversity (a stupid idea in and of itself) just so they can have an entire team of them to stymie teams.

Let me give you a typical MODOK fight with his current AI and the way he is built now: Constantly stay in block, spam heavies, hope to get 3rd or spam 1st and 2nds if on Unblockable nodes.

If, on the off chance that you are able to get his shield down, his AI will stay in block until it returns. This just drags a fight on and on of trying to constantly trying to keep his shield down in order to have the slim chance that you can kill him or being completely frustrated of hitting him once, watching him block until he gets it back, rinse and repeat until the timer runs out.

My personal opinion is that he needs removed from the Contest, but I would prefer a complete rework. Quite simply, the best thing you can do is remove his shield ability and give him something different to replace it. Either that or increase the timer so that it is a longer time before it can return.

His AI also needs changing. The constant heavy spam and blocking is a pain in the ass and drags a fight out longer than it honestly needs to be.

Something needs to be done, KABAM. MODOK is just a God tier character and if the trend continues, if you bring him into the 6* roster or even into the 7*s (if you make those years down the road), then this game will be completely unplayable.