We are currently experiencing an issue causing a delay in delivery of Summoner Advancement, the Alliance Quest event, and other 3-Day X-Men use event. We are working to resolve this, but it will likely take a few days. We will ensure that these rewards are delivered to affected Alliances. Please do not change Alliances until your rewards are delivered.
Why put basic 6 stars in the featured?? Just curious.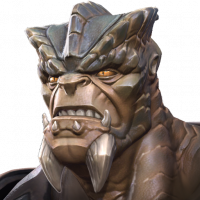 LumpDeChump
Posts: 67
★
With the amount of champions in the contest now why place a basic champion in the 6 star featured crystal? I mean for many of us it's not easy earning those shards. I've been saving mine since after the MODOK event. Finally popped mine last night and got Drax. Not a bad champ but it becomes overwhelming disappointing knowing you spent an extra 5k in shards to get a champ available in the basic. It's those kind of things here and there that make your customers (that's what we are) lose interest in the game. Make the champs in the featured unique. Even if you get a terrible one at least you don't feel as if you overpaid. Just a suggestion.