We are currently experiencing an issue causing a delay in delivery of Summoner Advancement, the Alliance Quest event, and other 3-Day X-Men use event. We are working to resolve this, but it will likely take a few days. We will ensure that these rewards are delivered to affected Alliances. Please do not change Alliances until your rewards are delivered.
Alliance Events - Challenge Time Attack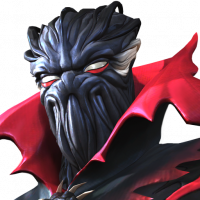 Crazyjack719
Posts: 392
★★
Hi Kabam,

I just wanted to run something by you and the avid players who follow this forum.

Since the Alliance events are getting a bit stale and can sometimes be a bit tedious, why not swop something like Duel Skirmish for something a little more rewarding and interactive?

My suggestion for this change is called - Quickdraw

How it would work is similar to how you guys did your Tournament at Comic Con last year; every week there is a new boss, around 25k PI, 100k in health, 5000-7000 attack (Scales to alliance bracket), with some different nodes that are suited to that champion, similar to how you have set the first 5 bosses in act 5.4.

E.g.
25207 PI
Masacre
108410 HP
6830 ATT

Individual Nodes -
Unblockable Sp1,
Hot to Touch - Take 507 incinerate damage whenever you hit into Masacre's Block.
Tequila Tuesday - a 20 second timer is placed on the Attacker, when this reaches 0, the Attacker must be in an idle position for 0.75 seconds offering to take a shot from Masacre. This will reset after the 0.75 runs out.

The task to contribute to the overall rewards would be to actually beat the boss, maybe have the milestone at 30000 points and each alliance member would have to do it once to qualify, obviously allowing for everyone to do it multiple times so that the weaker members don't hold everyone back.

The Goal for the challenge would be to get the fastest time, the 3 that get the fastest time would qualify for bonus rewards.

1st Milestone - 500 PHC/GMC shards, 2000 gold
2nd Milestone - 2000 BC, 500 Loyalty
3rd Milestone - 1500 PHC/GMC Shards
4th Milestone - T1A
5th Milestone - 500 5* Shards

3rd Place - 500 4* Shards
2nd Place - 500 5* Shards
1st Place - 250 6* Shards, 1000 T2A Fragments, Floating trophy - Gunslinger Title

I know this will probably never happen but this would make at least one of the events fun in my opinion and could add a sense of rivalry within the Alliance and sense of achievement being that weeks "fastest gun in the west".

Thanks for a great game though!