**UPDATE**
We are currently working to fix a known issue regarding Alliance Prestige. With the introduction of Relics, Summoner Prestige is now the average PI of your Top 5 Champions and the average PI of your Top 5 Relics (regardless of which Champion they are attached to) combined.

Today we pushed a fix that will allow for proper reward calculations in Alliance Quests. However, the display for Alliance Prestige will not be accurate and does not include Relic Prestige. This is a display issue only.

Recruiting, click for details.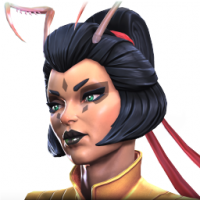 Baboss187
Posts: 140
★
Our main focus is AQ map 4, we run AW when it's available. Hit SA every week so no saving.

We're chilled so you won't here us say u must hit 15k on perfect series event. We do push for duels to be done and every other event will fall into place from naturally playing.

2 MAIN RULES: 1. 70k gold 5k loyalty donations.
2. If you can't make it on the game to make a move just lets us know why and will be fine with it. We understand people have lives.

Add me, my name is same as on here, 1 spot left for this 6 mill alliance.