New Policy Surrounding Summoner Names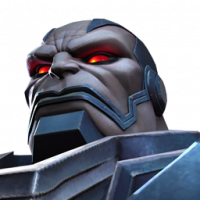 Kabam Miike
Posts: 6,693
Administrator ›
Greetings Summoners,

With Season 3 of Alliance Wars on the horizon, we want to address a concern over Summoner Names that obfuscate and hide a Summoner's Identity that a number of you have raised to us over the last little while.

We've received a lot of feedback from you all surrounding a new trend that some Summoners have taken advantage, where entire Alliances or Battlegroups would have their Summoner name changed to a series of indistinguishable "barcode names". While we understand that every Summoner finds their own way to gain a competitive edge, we agree that this particular method subverts the spirit of The Contest.

To combat this, any Summoner that has recently had their name changed to hide their identity will have their name reverted to their last available Summoner name, or a generic Summoner names if that is no longer available, in the coming days. Those affected Summoners will be able to reach out to our Support team to have their name changed again, but any attempts to create a new identity that obfuscates their identity will be rejected. This does not only apply to the common series of L's and I's, but any new series of characters that may result in a similar result.

Additionally, Summoner names flagged in the future for attempting to obfuscate their identity will be forcibly changed in order to make them identifiable.

Thank you all for raising your concerns on this topic, and for your continued support of The Contest, and its Community.