Dungeons Return on August 20th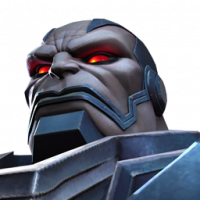 Kabam Miike
Posts: 6,786
Administrator ›
Summoners!

We're under a week away from the return of Dungeons! We've learned a lot from the first time Dungeons were available, and have used the data we collected in tandem with your feedback to make a number of improvements to the mode!

Now, before we get into it, we've also just posted an inside look into our design process behind the original iteration of Dungeons, and what we think went right, what we think we needed to improve on, and the lessons we learned that we're applying going forward! Take a read of that over in this post here.

When Dungeons are available again on August 20th, they'll stick around for 2 weeks (end on September 3rd), but that won't be the last you see of them! We're going to bring them back two more times (Sept 16th - Oct 1st and Oct 22nd - Nov 5th), and each time, we're going to be trying something new based on data and feedback that we have collected! You can read more about that in the post we linked here as well.

Now, let's jump into our Dungeon improvements for this next iteration!

Permanent Dungeon Currency!

Artifacts are now a permanent addition to the Contest! That means that you are now free to hold on to them, and not feel pressured to use them before the end of the event. You're still only able to hold on to 55,000 Artifacts at a time, so don't hold on too long!

Earn Experience in Dungeons Fights!

Summoners that are still working their way towards Level 60 can now earn experience from the fights they complete in Dungeons! That also means that more experienced Summoners that are playing along with less experienced Summoners can help them progress in an even more impactful way!

Early Exit!

If your partner and/or you are not able to progress any further, you are no longer required to wait until the timer runs out. You can now exit the Dungeon early, but will claim the "Loss" rewards for that room. If only your partner exits, the remaining player can still finish the room and claim their Room Completion Bonus.

A New Difficulty Level to add granularity!

Introducing Difficulty Level 3! Wait… Didn't we already have that? Yes we did! We're adding a new difficulty level that existed between the old Levels of 2 and 3 (a 2.5, so to speak). This new Level pushes the older Levels 3,4,5, and 6 up one number, but don't worry! Those ones are not getting more difficult. So, when you see Difficulty 7, it is the old Level 6, so don't be afraid to try it if you were already taking on Level 6 last time.

NOTE: The points awarded for Levels 5-7 have not increased, as the difficulty is still the same, but Level 4 has seen a bump in points awarded. (New Level 4 is the Old Level 3, but awards slightly more points than the old Dungeon 3)

Dungeon Store!

You can now spend Units to purchase Dungeons Potions and Revives in the Dungeons Store! This is also where you'll find the Dungeons Crystals that you can purchase with the Artifacts you earn from Dungeons!

Buff and Boss pool updates!

New Bosses and new Buffs to encounter are going to keep Dungeons a fresh and intriguing corner of the Battlerealm.

New Milestones!

We've revised the Milestones to make them easier to obtain this time around, but have also adjusted the rewards accordingly. This does mean that you won't actually be able to get a 5-Star Crystal from just one iteration of these new Dungeons, so you'll want to hold on to them between iterations as well!




New Crystals!

We're bringing you all a brand new selection of Crystals, with a new Roster of Champions! These Crystals will no longer rotate, so they'll be available until the end of all 3 of our upcoming Dungeon events. They are still locked by your Prestige, though we hope to change this in the future to a different measure of progression. A bonus change to these Crystals is that they no longer give just the Basic Version of these Champions! Meaning a Duplicate Champion will give 8 Signature Levels for a 3-Star, and 20 Signature Levels for either a 4-Star or 5-Star, as well as the Gold, ISO-8, and Shards that come along with the duplicate.

3-Star Crystals cost 3,000 Artifacts
4-Star Crystals are available to Summoners at 2,250+ Prestige and cost 9,000 Artifacts
5-Star Crystals are available to Summoners at 4,200+ Prestige and cost 27,000 Artifacts




Dungeons return on August 20th, and will be available until September 3rd. You must be at least Level 16 to be able to partake in Dungeons.