Participating in 2 Wars Simultaneously
QuikPik
Posts: 445
★★★
We start our match making process around 4PM EST and find a match almost immediately.
4:30PM - here is where our problem starts. Some players were in the middle of placing defenders when they get disconnected. When the game comes back up their defenders are neither placed nor in their queue. They get a message that they have already placed defenders. Tickets were opened.
5:10PM - servers go down again. Why...because once is just not enough. Some people may have been placing during this time but I'm not sure.
up to 8:50PM - more people place defenders
8:52PM - our war is reset as we get a message that our war has ended in a tie.
8:54PM - we start match making again as we assume Support has reset our war in order to fix the phantom defender problem. Now our war schedule is thrown off by 5 hours but we'll deal with it if we can get a full strength war. Again we find a match almost immediately. Some alliance members start reporting that they cannot place defenders because they are already in a war. The people who were actually able to place in the first war are still locked in to that war. More tickets are opened.
Thursday
Around 12PM - we get another message that our war has ended in a tie. We figure support reset our war again. At this point, we don't want to chance starting another war. We are past the point of participating in 3 legitimate wars anyway and will rely on Support to resolve our issues.
7PM - we get a notification that war attack phase has started. How this happened I have no idea as our original war match was found around 4PM on the prior day. Some of us join attack and we'll do the best we can even though it's a guaranteed loss (we have only a handful of defenders placed due to the bug from the previous day).
9PM - we get another notification that war attack phase has started but this time with a different alliance. Now we are scratching our heads.
Our war rating is exactly the same in both screen shots, we really are in 2 wars. Now that the second war has started none of us can join attack in the second war as we are all locked in to war #1. This is the error message we get trying to join war #2.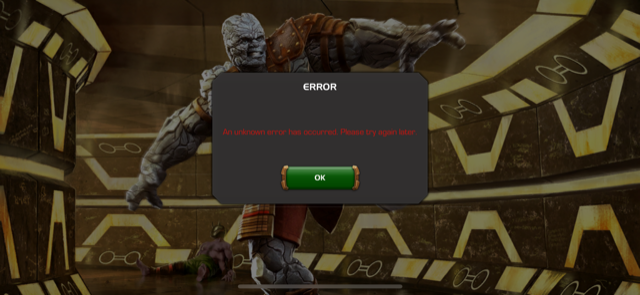 Responses from Support:
1. Start match making earlier to ensure you find a match in a timely manner. Ummmmm yeah, we started match making 2 hours after it was open. We are in tier 5 and play 3 BGs, it doesn't take long to find a match. In fact, we are GODS are match making since we found 2 opponents !
2. They don't see a problem as we are participating in a war, wrong we are in 2 half baked wars with some defenders in one and other defenders in second. We are also unable to attack after second war has started.
Concerns:
We will get almost no points from the first war as we only had 2 hours to move before getting kicked out when the second war started. This will certainly mean we will drop down a tier through no fault of ours.
@Kabam Miike
@Kabam Lyra
@Kabam Vydious
@Kabam Zibiit
you need to make us whole because your server crash caused this problem. A fair solution would be to give us the points from the average of our last 3 wars. Give us the rewards from a loss, we are more concerned about season points.
This discussion has been closed.