Introducing: In-Game Name Change Feature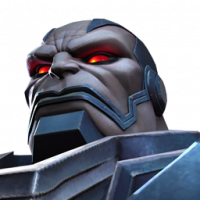 Kabam Miike
Posts: 6,693
Administrator ›
Summoners,

With the release of 20.0, we have introduced a new feature that allows Summoners to change their own name in-game!

We understand that your Summoner name can be a source of pride as you triumph in the many challenges of The Battlerealm. We also understand that the name you chose when you started may not reflect the Summoner you've become.

To allow all of our Summoners the ability to change their in-game name, we are introducing a new Name Change Token item. This item will allow Summoners to change their name once every 90 days for a cost of 275 Units. To get everybody started, we'll be rolling out a special, limited-time only, offer to all of our existing Summoners that will allow you to purchase a single Name Change Token for 1 Gold.

NOTE: Purchasing the item does not automatically lead to a name change. Even if you have no plans to change your name at this time, you may want to purchase the item and hold on to it for the future, in case the need to change your name ever arises.

To prevent any unnecessary strain on the game and servers, we will be slowly rolling this Token's availability to all of our Summoners in the days following September 10th. We'll be rolling this out based on the age of your account, with our oldest Summoners receiving them first.

With the ability to change names also comes the opportunity to obfuscate names. You may remember that we cracked down on this in the past, and our stance still stands. We have taken some steps to help prevent instances of this, such as changing how some of the characters display in game to set them apart from other characters that may look similar (like a lowercase L and an uppercase I). We also ask that if you run across a name that you feel is purposely trying to obfuscate their identity, that you report them. If it is deemed that a player is purposely obfuscating their name, their name will be reverted to an older name (if it is still available), and the Name Change Token will not be reimbursed.

Why are we introducing this feature? There are a number of reasons a Summoner may want to change their name. We want to give Summoners the ability to change how they represent themselves in game, but also want to avoid any abuse of this system. This is why there is a 90 day cooldown between purchasing of Name Change Tokens, and a 275 Unit cost associated with it.

Previously, it was possible for Summoners to have their name changed through the help of our Support Team, but this has become a process that was being abused, and was slowing our team on addressing other player queries, or cases that required more time than others.

You'll notice the Name Change option will be available to you once you update to 20.0, but won't be usable until you have a Name Change token available. Again, the token offer will slowly roll out to all players in the days after September 10th, and will be available until October 16th. You'll only be able to purchase one during this time, and your inventory will only be able to hold one. Any additional Tokens purchased will go straight to your stash, and disappear in 14 days. Use them wisely Summoners!