Summoners, there was an issue with Alliance War matchmaking today preventing Alliances from being able to match with others. As a result, this upcoming war will be cancelled. There should be no detrimental effect to any Alliance's Season performance, and we will be reducing the Alliance War Season Rewards Participation minimum to 4 Wars. We apologize for this inconvenience.
Fix for Repeated Fights in Alliance Quests - Input Needed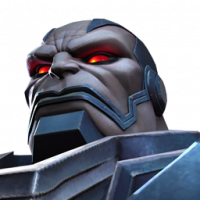 Kabam Miike
Posts: 7,008
Administrator ›
Summoners,

We have pushed a fix for Alliance Quest (and Wars) that we believe has remedied the Repeated Fight Situation for Alliance Quests, and are working to fix the issue for Quests. While everything looks fine in our internal tests on the Live Server, for us to be sure this fix is working, we need as much data as possible.

Please report here if you are seeing any issues in Alliance Quests specifically.

We will also be changing the Timers to 30 minutes very soon, as well as bringing iOS out of Maintenance.

Please note that this has NOT fixed the issue for Daily, Story, and Event Quests yet.

Thank you all for your help.
This discussion has been closed.