**HOTFIX AND GOODIES**
Our latest Hotfix is now live for both iOS and Android! Please manually update your game. Additionally, because of the bugs' impact on energy refill consumption, we have provided summoners with Energy Refills and a few other items to assist in the Contest! Sign in and check your messages now to claim yours!
Omega Red question....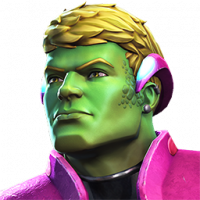 Master_mischief69
Posts: 208
★
Hi guys, i have 5 star Omega Red (Awakened). He is my second five star hero... And i used awakening gem on him... But the question is, is he that much powerful?? Because after some crystals i got 5 star sunspot.... Compare to Omega Red, sunspot is pretty good... Lot of damage too... So i didn't update Omega Red after get him... Most of my friends suggest me to update him... That's why i am asking here too... Because Omega Red's critical rating is low... and he's only useful for long fights...
Should i update him???