**KNOWN ISSUE**
Currently, Alliance Prestige (as it concerns Alliance Quests) is not taking Relic Prestige into account. If possible, we are working to address this for the next round of Alliance Quests but will have more information for you when it is available.
Elsa's degen vs Cable's degen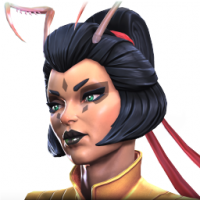 NaTiSaAd
Posts: 50
★
Why can Elsa Bloodstone cause degen to opponent from Double Edge mastery but Cable can't. Cable's description states "when caused to bleed" doesn't Double Edge cause Cable to bleed? Seems to me they should either both have it or both not have it, or fix the wording.