Please note that when we enable the 1 Loyalty Cost for Revives in Alliance Wars for Season 34, they will not be visible from the screen that appears when you choose to Revive or Heal a Champion from the Fight Screen.

You will be able to purchase Revives from the Loyalty tab in the Store Menu.
Honest Review: Elsa Bloodstone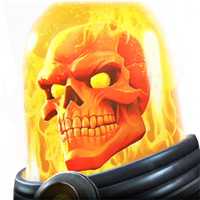 Rouger4
Posts: 631
★★★
Elsa Bloodstone has recently been making a resurge in her popularity, rising from a decent champ in the eyes of the community to a actual consideration for r3. Let's see if she's actually a great champ in today's review.

When it comes to damage , elsa bloodstone is a beast. Not crazy damage but it's impressive to say the least, she has the highest critical rate in the game which is further increased by busted direct damage.
However, I think a point where she really shines is utility . She can shrug of non damaging debuffs somewhat consistently. This is useful but is some times unhelpful in cases. She is a good counter to evade champs due to her access to cold snap. However, this requires her to be evaded once in a fight. She also has a passive heal block at the start of the fight if you run suicides or be there is a bleed on her. So this bypasses debuff immunity but you need to have a bleed on u which may not always happen. Her utility is very underrated. She can also counter diss track and buffed up.

If she is used properly, Elsa is a great champion .Her rotation is simple , so you can focus on the fight.

So, let's get into her abilities. She inflicts either a busted debuff with a light ending combo or a incinerate debuff with a medium ending combo. This might seem not like much but the busted increases her damage significantly and no one is immune to it, while the incinerate makes her a selective time stream or diss track counter. She also inflicts a passive heal block and a degeneration on the opponent which is nice but the degen is mostly for defence. She has this underrated abilities that when u parry instead you evade and can counter attack safely. This gives you free openings in stun immune, unblockable matchups and can help with mordo and BPCV.
She has 6 of each ammunition : with long names and I'm tired of typing so I'll call them buster and burner. U can inflict 6 of each until they relaod. This reload is useful as it lets u gain power faster. She also has the ability to shrug off non damaging rebuffs which is great against mr fantastic and void and spectre. Her sp1 and sp3 give their three precision and cruelty respectively. I don't really use them a lot but great for buffed up. Her sp2 inflicts busted till it runs out. This is the go to special. You want to also keep a ammunition running out so u can max out on damage and power.

Conclusion: Elsa has impressive damage with unique debuts and can counter buffed up diss track and spectre. She can consistently shrug off debuffs and is a decent evade counter. She has a underrated evade that gives you a opening and she's overall a beats with this of under appreciated utility.