LF silver 1/ gold 3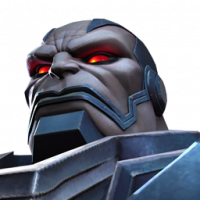 TheBoogyMan
Posts: 709
★★★
Hi... looking for a silver one or gold 3 alliance for the next season, as a new home. Over 100k base rating increase in last one month. 4.2k prestige, 220k base PI.

Comfortable with map 3 with easy modifiers, or base map 4. Don't do aq much, but am active and progressing fast. Do every war.

Old player, recently returned to the game. Line app for communication available. Not looking for rough and tough alliances. Something laid back but active players, and nothing strict like dedicated paths and requirements. We all have lives and would not expect everyone to be available all the time.

Would like players who generally keep to themselves but help each other with suggestions and tips when needed.

Summoner advancement personal contribution is 22k+ every week, qnd good contribution to other alliance events. Looking for alliance with 600k+ milestone weekly.

Please share your alliance tag or line ID. I will reach out to you.