Due to an issue with Alliance War Defense Tactic, we will be ending this Alliance War Season effective immediately. This current War will not count towards your Alliance War Season Score. War Season eligibility rewards will be reduced to 2 Wars in the Season.

We understand that this is not a perfect solution, but without the ability to remove or freeze the War Rating quick enough, the rest of our Alliance War season would be compromised.

This war will remain active, and in-game, you will still see the season until tomorrow. After we end the season tomorrow, we will be taking some time to collect data and remove the changes to the Alliance War Season score. Once that is complete, we will be able to send out Alliance War Season rewards.

We apologize for the inconvenience.
Act 6.1.5 Crossbones post Buff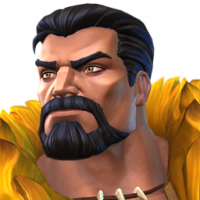 Captain_Dp7
Posts: 30
★
Hello Guys,
I just wanted to discuss this with you:
I am currently trying to push for Cavalier. I got to act 6.1.5 Crossbones with hardly any probles but now I'm stuk.
He is a much bigger Roadblock then he was before the buff. The reason is his insane shrug of ability. You can't parry him and he shrugs most of the damaging debuffs and also heal blocks.
A Champ, that is poison immune does hardly more damage than he regens at the beginning by arc-overload. Even If you get some crazy intercepts. (Even my 5/65 Colossus only gets him down a few%)
If you bring a poison immune champ, the regen is still crazy. Because of the shrug-off you need to play slow, which means even more regen. My 4/50 Hyperion only gets him down a few% per regen-cycle and you can barely ramp him up with fury or cosmic potential.
Please
@Kabam
remove or weaken one of the nodes or make it a linked node. If you removed poison, we could bring our heavy hitters, if you removed the arc-overload, we could play slow and get him down a bit more. It would even help to change arc-overload back to vigor, so we could "unit" our way through the fight by force quitting or letting our non immune chaps die from poison before the regen starts.
I think as it is right now, it is very unfair for the players because it is more difficult to get the Cavalier title, which is Not even the highest progression level any more.
To the Community: Do you have any tips for that Fight? I know that Omega ist the best counter, but Mine is unduped and many players don't even have him. And what do you think of my suggestions?
Thanks
Post edited by Kabam Porthos on