Please note that when we enable the 1 Loyalty Cost for Revives in Alliance Wars for Season 34, they will not be visible from the screen that appears when you choose to Revive or Heal a Champion from the Fight Screen.

You will be able to purchase Revives from the Loyalty tab in the Store Menu.
LF 2 SKILLED, SOCIAL, & LAID BACK PLAYER FOR AQ 66555 AW GOLD 2. Line Req.
nonames
Posts: 293
★
We are seeking one player with a decent r5 & r6 roster to replace two players for aq & aw play. Aq will run 2 days of map 6 and 3 days map 5 with
master modifiers
.
Who we are: We are a group of active, laid back highly skilled players. We complete content, use Line, are active and friendly. We are a full group of adults, with adult responsibilities that know how to balance work, life, and gaming.
The Dirty Thirty Tag: D.30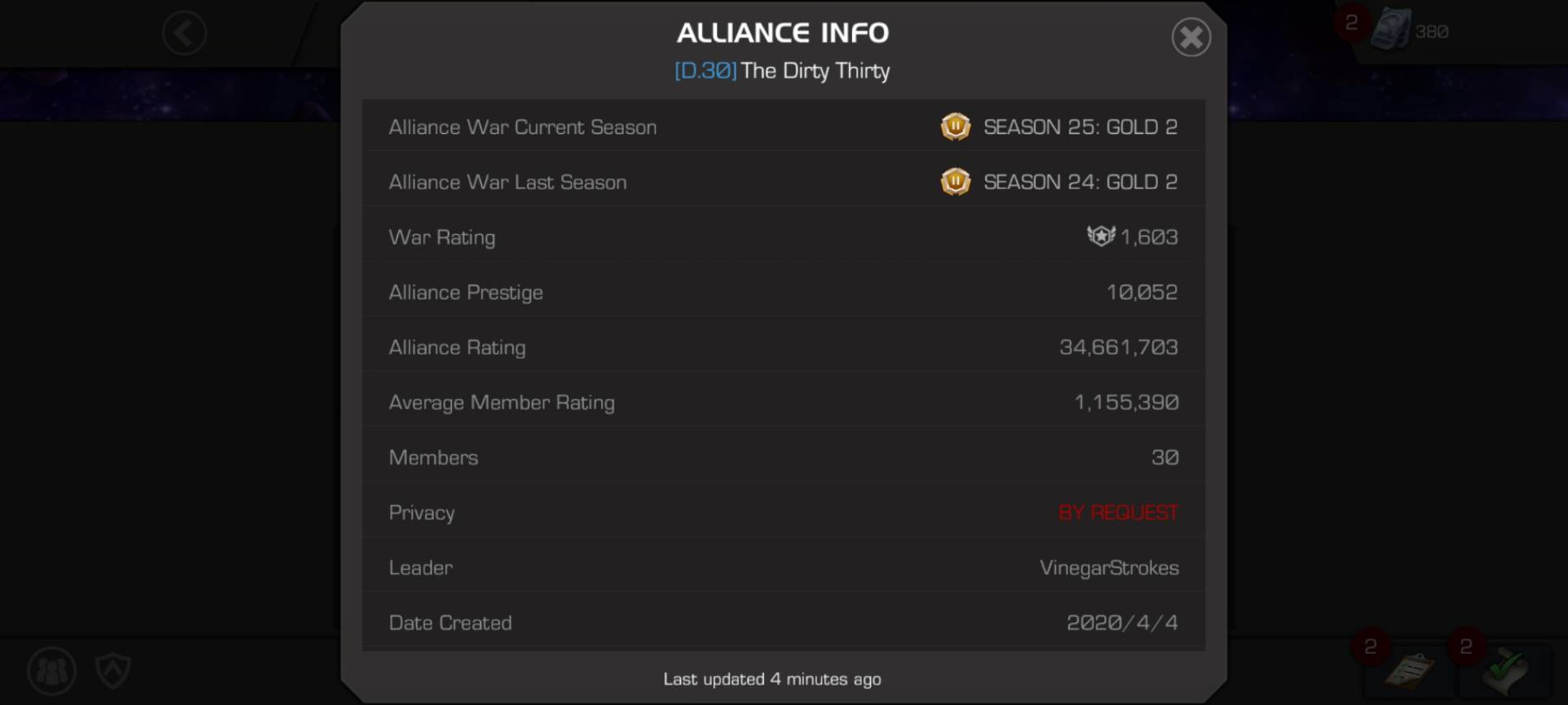 US: Communicate frequently, laid back & easy going, active.
Alliance: The Dirty Thirty
Tag: D.30
Goals: AQ66555 Master Modifiers 250-300 M (closer to 300 Mil), Finish AW in Gold 2 every war (No desire to push to gold 1, but if it happens it happens), teamwork, & communication.
Ability over prestige, but prestige will play a part in recruitment.
You:
Rosters & Ability: Must be relying on a roster of mostly 5* rank 4 and rank 5 champions, or/and 6* 2 & 3 champions & know how to use them.
You must have line, know how to use it, and respond when tagged. None of us like being ignored.
We are generally active & laid back, but we will settle for active because laid back can lead to comatose.
I will not message you in-game because that shows me you may be unwilling to contact us through line, so message us through line if you are interested:
Line: fcknonames, rsfoto, kcargo1, jit_fearless.