UPDATE: A new Hotfix (v32.2.3) is now being released to address this issue. Please keep an eye on your App Store for this update to address the below issue.
We are currently experiencing an Error when Summoners view a Champion's Synergies while in the Champion Selection screen in Arenas and Duels. We are aware of this issue and are working on a Hotfix to address it. In the meantime, please avoid using the synergy menu to prevent this error and crash. We apologize for this inconvenience. Updates will be posted here:
https://forums.playcontestofchampions.com/en/discussion/293506/error-when-looking-at-synergies-from-champion-selection-screen
LF 2 SKILLED, SOCIAL, & LAID BACK PLAYER FOR AQ 66555 AW GOLD 2. Line Req.
nonames
Posts: 283
★
We are seeking one player with a decent r5 & r6 roster to replace two players for aq & aw play. Aq will run 2 days of map 6 and 3 days map 5 with
master modifiers
.
Who we are: We are a group of active, laid back highly skilled players. We complete content, use Line, are active and friendly. We are a full group of adults, with adult responsibilities that know how to balance work, life, and gaming.
The Dirty Thirty Tag: D.30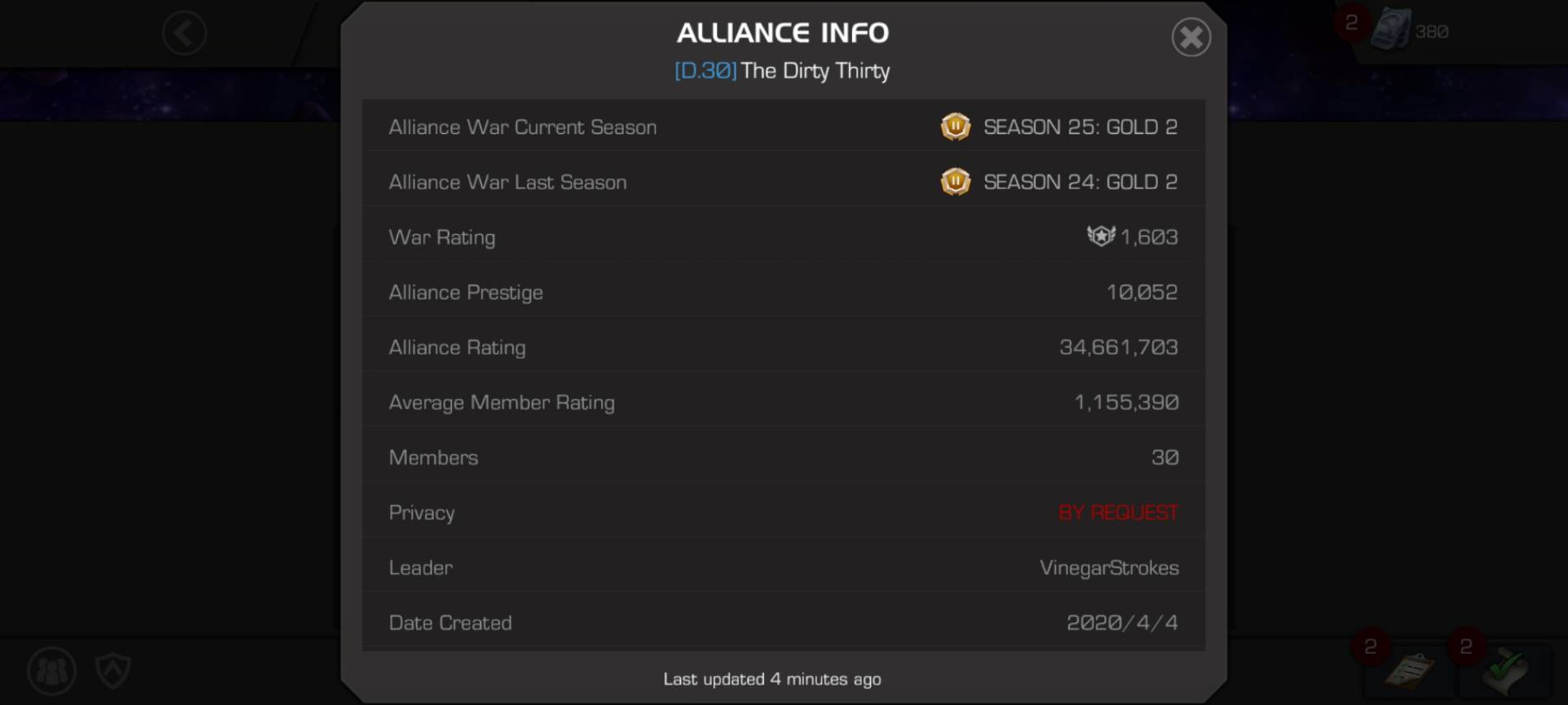 US: Communicate frequently, laid back & easy going, active.
Alliance: The Dirty Thirty
Tag: D.30
Goals: AQ66555 Master Modifiers 250-300 M (closer to 300 Mil), Finish AW in Gold 2 every war (No desire to push to gold 1, but if it happens it happens), teamwork, & communication.
Ability over prestige, but prestige will play a part in recruitment.
You:
Rosters & Ability: Must be relying on a roster of mostly 5* rank 4 and rank 5 champions, or/and 6* 2 & 3 champions & know how to use them.
You must have line, know how to use it, and respond when tagged. None of us like being ignored.
We are generally active & laid back, but we will settle for active because laid back can lead to comatose.
I will not message you in-game because that shows me you may be unwilling to contact us through line, so message us through line if you are interested:
Line: fcknonames, rsfoto, kcargo1, jit_fearless.