Due to an issue with Alliance War Defense Tactic, we will be ending this Alliance War Season effective immediately. This current War will not count towards your Alliance War Season Score. War Season eligibility rewards will be reduced to 2 Wars in the Season.

We understand that this is not a perfect solution, but without the ability to remove or freeze the War Rating quick enough, the rest of our Alliance War season would be compromised.

This war will remain active, and in-game, you will still see the season until tomorrow. After we end the season tomorrow, we will be taking some time to collect data and remove the changes to the Alliance War Season score. Once that is complete, we will be able to send out Alliance War Season rewards.

We apologize for the inconvenience.
GWAR probably has NO interest in you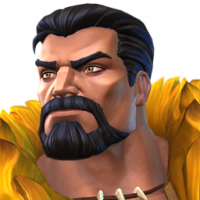 Dooman
Posts: 28
Are you ultra competitive, always looking for the edge? Always pushing yourself, and trying to do map 6 as much as possible?
Or maybe you're not very active, only log on once a day and do the bare minimum to qualify for rewards?
Maybe you just started out. You struggle to beat Heroic on the monthly quest. Not lack of effort, you just don't have the roster yet.
If any of these describe you. This is not the alliance for you.
What we are : We are a group of players who run 5x5 in Expert. Our goal, is to stay in Expert.
Currently we're tier 8 in AW. We know we're better than this, we should be around tier 4-6. But we aren't bothered. If you have a bad streak, you'll follow it up with a good streak.
We're just a group of players who likes being somewhat competitive, and enjoys being active. We hit all milestones, and we strive to improve. To those of us who are involved, it feels like home.
Their's no shame in admitting you would be a poor fit here.
But, if maybe this sounds not so terrible. Not quite hardcore, but still active and friendly. Well, then feel free to contact me
MrDooman in-game, and on LINE
I look forward to hearing from you... or not. It's up to you.