Summoners, we recently encountered an issue with the Alliance Quest Setup Phase Starting Timer that may cause the Setup Phase Starting Timer to display erroneous information, though we are working on a fix for it as quickly as possible. Additionally, if the Setup Phase does not let you plan your days in advance, you will be able to once the Event officially begins on the Alliance Quest Start date.

For clarity, the next Alliance Quest Enlistment Phase will begin on December 5 at 20:00 UTC, regardless of what the in-game timers display.

The next Alliance Quest Start will be on December 6 at 20:00 UTC. This is when Summoners should be able to enter each Map. Thank you for your patience and understanding as we work to resolve this issue.
Alliance War Season Rewards will start to roll out to Summoners very soon. These will take a while to get to everybody, so do not worry if an Alliance Mate receives their rewards, but you haven't yet. We thank you for your patience.
Pick 2 5-star champs to rank 5 and one champ to get generic AG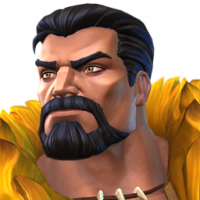 IcePick
Posts: 163
★
Started new account several months ago after being locked out of old account. Explored act 5 today and am now turning my attention to completing 6.2-6.4, then going through the variants. I am close to having 4 tier5 basic catalysts. So I can rank 5 two five star champs or rank 2 a 6 star champ. I have a science class awakening gem in case I ever get void or CAIW.
My initial thought is to rank 5 archangel and to use a generic awakening gem on Hyperion and rank 5 him as well.
What are your thoughts? Better to save that generic in case I ever get Aegon?
I really want to make a run at thronebreaker soon but i only have one if the four horsemen of the abyss and am lacking so many important champs.
What's my best strategy?