Prediction for next 6* featured?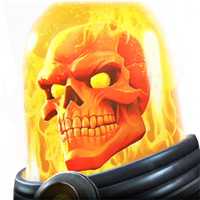 Ethereality
Posts: 685
★★★
Hi guys,

So the next 6* featured crystals will be here in 2-3 days so I was wondering which champs would be in it?

I know that FOR SURE the following will be in it (correct me if I'm wrong):

Mangog
Odin
Jabari Panther
Silver Centurion
Mr. Negative
Shang-Chi

I guess that some of the following are LIKELY to be in it just cuz they received buffs and there seems to be a trend of Kabam featuring champions that they have just upgraded or are about to upgrade:

Civil Warrior
OG Black Panther
Vulture
Angela
Mr. Fantastic (although he was on the crystal before the current one)
Ebony Maw
Ultron
War Machine
Maybe Diablo?
Maybe Ronin?
Maybe Bishop?

Now to the predictions. The following are based on (a) my own wishful thinking and (b) the fact that they haven't been on a 6* featured in a while (I think, I could be wrong) so they are due to appear sooner than later:

Nick Fury
CAIW
BWCV
Tigra
Invisible Woman
Hopefully Magik!
Hopefully Medusa!
Hopefully Starky!

Nope I dont think Hyperion or Quake are gonna be in it, not now and perhaps not ever cuz they'd be waaay too broken as 6*.

What are your thoughts/predictions?